Governor Thomas H. Kean Archive
Thomas H. Kean served as governor of the State of New Jersey from January 1982 to January 1990. Kean won an extremely close race in 1981, defeating then-Congressman Jim Florio by 1,797 votes. He won his second term in 1985 much more comfortably and served two full terms.
Governor Thomas H. Kean Archive
The Governor Thomas H. Kean Archive, launched in 2009, features photographs, documents, major speeches, analysis and information from and about the Kean administration as well as newly generated retrospective interviews, forums and analysis. The Center on the American Governor welcomes donations, suggestions, and corrections to make this archive as accurate, informative and useful as possible.
Biography
Thomas Howard Kean served two terms as governor of New Jersey from January 1982 to January 1990. The State's 48th governor, he is a descendant of its very first constitutional governor, William Livingston, who was elected by the first state legislature in August 1776 and also led its militia during the Revolutionary War, going on to be elected for 13 single-year terms as governor until dying in office in 1790.
Tom Kean was born April 21, 1935 in New York City into one of the most prominent families in the country. His mother– the former Elizabeth Stuyvesant Howard–was a member of the Stuyvesant family established in this country by Peter Stuyvesant, the Dutch colonial governor of Nieuw Amsterdam. His grandmother, Katharine Winthrop, was a direct descendant of John Winthrop, the first governor of the Massachusetts Bay Colony.
The family of his father–Robert Winthrop Kean–also produced some of the nation's key leaders over two centuries. John Kean, Tom's great-great-grandfather, served as a delegate from South Carolina to the Continental Congress and as the first Cashier of the Bank of the United States; his second great-uncle, Hamilton Fish, was a U.S. Senator, Governor of New York and U.S. Secretary of State. His great-uncle John was US Senator from New Jersey ifrom 1899 to 1911 and also served two separate terms in the United States House of Representatives, from 1883 to 1885, and from 1887 to 1889.
Click here for Governor Kean's full biography.
Cabinet
To complete the important work of building his Cabinet, Governor Thomas Kean took a slightly different approach than many governors. He noted in an Eagleton Center on the American Governor interview that he did not want to simply higher members of his campaign staff, as he thought the needed skill sets were different, Therefore, he said, " I did something fairly unusual. I hired a search firm, a local New Jersey search firm, and told them I wanted them to screen and to find me the best candidates for each of these positions; and even if I thought I knew somebody who would be good at the position, they had to go through the screening committee process with the other candidates." He noted that it was a difficult process and it came with risk, but it appeared to work. "Over half the cabinet were people I'd never met before, until I interviewed them. But they were some of my very best people."
Click here for a full list of Governor Kean's Cabinet.
State Legislature During the Kean Administration
The Democratic Party dominated the State Legislature during the first term of Governor Kean's administration, controlling majority support in both the General Assembly and the Senate. Drawing upon his own experience serving in the legislature, Governor Kean was able to work across the aisle with the Democratic majorities to achieve many important legislative accomplishments. During the middle of his first term, the Republicans lost only a single seat in each chamber, which is far below the historical average for the incumbent's party.
When Governor Kean was reelected in 1985, the Republican Party also gained 14 seats in the Assembly, granting them the first majority in that chamber in more than a decade. Now facing a divided Legislature, with Democrats maintaining a majority in the State Senate, Kean continued to work well with members of both Parties. The bipartisan approach Kean followed enabled him to continue to enact important legislation that won the support of both chambers.
Click here for a list of all members of the New Jersey legislature during the years of the Kean Administration.
State Supreme Court During the Kean Administration
The New Jersey governor is able to nominate new members to the Supreme Court when openings occur through resignation, death or retirement of sitting justices. Once confirmed by the Senate, appointed justices initially serve a seven-year term after which they can be nominated for tenure by the sitting governor and, if reconfirmed by the State Senate, remain on the Court until they reach the mandatory retirement age of 70.
Although not constitutionally or statutorily required, New Jersey governors have typically voluntarily abided by two principles during the appointment process. First, when sitting justices have completed their initial seven-year term, Governors have tended to renominate them to serve until age 70 even when the governor who made the initial appointment has been of the other party. An exception to this practice occurred in May 2010 when Justice John E. Wallace, Jr.'s seven-year term expired and Governor Chris Christie chose to replace him rather than nominate him to serve the remaining two years until he would be 70.
Second, governors appointing new justices to the Supreme Court have maintained a partisan balance, allowing their own party to achieve a one-seat majority, but otherwise keeping parity between the two political parties on the bench. As a result, New Jersey governors have frequently nominated justices who were of the other party or registered as independents.
During his eight years in office, Governor Kean appointed two new justices to the Supreme Court of New Jersey and nominated six for reappointment and tenure. Five of Kean's reappointments were originally placed in office by Kean's predecessor in office, Governor Brendan Byrne. Kean was able to grant tenure to one of his own nominees, Marie L. Garibaldi, who he originally appointed in his first year in office. Justice Garibaldi was the first woman to sit on the New Jersey Supreme Court. By the end of his second term, Governor Kean had either appointed or reappointed six of the seven members of the Supreme Court, including the Chief Justice, Robert N. Wilentz.
Appointed
Marie L. Garibaldi (11/17/1982 – 1/31/2000)
Gary S. Stein (1/11/1985 – 8/31/2002)
Reappointed
Sidney M. Schreiber (2/28/1975 – 11/17/1984)
Robert N. Wilentz (6/10/1979 – 6/30/1996)
Alan B. Handler (3/23/1977 – 8/31/1999)
Stewart G. Pollock (6/28/1979 – 8/31/1999)
Daniel J. O'Hern (8/11/1981 – 5/22/2000)
Marie L. Garibaldi (11/17/1982 – 1/31/2000)
Governor Kean's Executive Orders
During his two terms in office, Governor Kean issued a total of 226 executive orders, an average of about 28.25 per year, encompassing a wide range of policy and administrative matters. This was more than twice the rate of his immediate predecessor, Governor Brendan Byrne, who averaged 14.13 executive orders per year, but at approximately the same rate as his immediate successor, Governor Jim Florio, who averaged 28.75 executive orders per year in his single term. Recent governors have used the executive order even more frequently; Governors Jon Corzine and Chris Christie each far out-paced Governor Kean's use of the power in their respective first terms. Of course, these numbers do not in any way quantify the relative import of actions implemented through individual or groups of these orders.
Click here for a list of all of Governor Kean's Executive Orders
Job Approval Ratings
Governor Kean is remembered as being one of the most popular of New Jersey's governors for good reason. He maintained the highest approval rating of any governor up until that point, and the highest for decades to come.
Click here for analysis of Governor Kean's job approval ratings.
Annual Budgets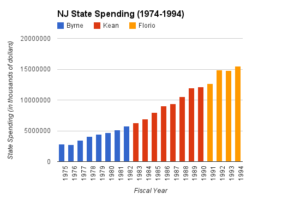 Governor Thomas Kean was sworn into office on January 19, 1982, inheriting the $5.7 billion Fiscal Year 1982 budget from his predecessor, Governor Brendan Byrne. Byrne's administration had presided over an expanding economy in its final years, allowing the budget to expand by nearly 10% each year throughout his two terms in office, interupted only by a single year of budget cuts in FY 1976 (the first in over 20 years). Governor Kean similarly presided over a largely expanding economy, allowing the state budget to continue to grow as tax receipts swelled.
Governor Kean's first two budgets continued the steady expansion in state spending, but held that expansion to under 10% (FY 1983 and FY 1984). The next two budgets (FY 1985 and 1986) grew at a more rapid pace of almost 15% each year.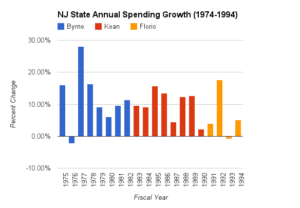 A slight slowdown in the state economy resulted in a reduced growth rate in the FY 1987 budget, which grew at only 4%. State spending again rebounded to rates exceeding 10% growth per year in FY 1988 and 1989. Only in his final year in office to Governor Kean experience a serious economic slowdown, forcing the administration to reduce the growth rate to just over 2%. Governor Kean's final budget in FY 1990 of $12.1 billion was just under double the amount of his first in FY 1983, which was $6.2 billion.
Public Questions
While not under the control of the governor, the public questions that appear on the ballot each year provide valuable insight into some of the major issues the state faced in a given time period. In New Jersey, the public may see three different variety of public questions:
Constitutional Amendments, that will alter the state constitution
Bond issuances, that will raise money for large projects
Legislative referenda, which will enact new policies in the state
Click here for a list of all public questions considered during Governor Kean's two terms in office.
Major Issues
The Eagleton Center on the American Governor has convened roundtable forum discussions on the following topics related to the Kean Administration. Governor Kean, members of his staff and cabinet, and other interested observers have participated in each event. The events were videotaped and are available in our Video Library.
The Eagleton Center on the American Governor has also hosted and co-hosted a number of special events related to the Kean Administration. These are also available in the Video Library.
Outside Resources
Additional information about Governor Kean can be found at:
The following books about or by Thomas Kean are also available:
Governor Kean also participated in a long-running column in the Star-Ledger, in which he discussed the issues of the day with fellow former Governor Brendan Byrne. An index to many of  those conversations is available here.
In 2006, Anthony Cicatiello and John Neiswanger of CN Communications produced a documentary on Governor Kean titled "Tom Kean: The Politics of Possibility." The full documentary is available in our video library.
Following the terrorist attacks of 9/11, former Governor Kean was asked to Chair the National Commission on Terrorist Attacks Upon the United States, better known as the 9/11 Commission. The commission website includes a link to the commission's final report as well as video and transcripts of public hearings held by the commission.