New Jersey Governor
Governor Brendan T. Byrne Archive
Brendan Byrne served as the governor of New Jersey for eight years. He first won election in 1973, defeating Congressman Charles Sandman and took the oath of office on January 16, 1974. He won re-election in 1977, despite facing 10 fellow Democrats in a tightly-contested primary. He served two full terms, until January 16, 1982.
Governor Brendan T. Byrne Archive
The Eagleton Institute of Politics held the Opening Colloquium for the Governor Brendan T. Byrne Archive on September 6, 2006, officially launching both the Byrne Archive and what was then called the Program on the Governor, later expanded and renamed the Eagleton Center on the American Governor. The Byrne archive–the first of the New Jersey gubernatorial archives–features photographs, documents, major speeches, analysis and information from and about the Byrne administration as well as retrospective interviews, forums, and analysis. The Center welcomes donations, suggestions, and corrections to make this archive as accurate, informative and useful as possible.
Biography
Governor Brendan T. Byrne (1924-2018) was born in West Orange on April 1, 1924. His father, Francis A. Byrne, served for 15 years on the municipal governing body of West Orange and was appointed by successive governors to terms on the State Tax Commission.
Brendan Byrne graduated from West Orange High School in 1942, where he served as president of the debate club and senior class president. He briefly attended Seton Hall University in South Orange before leaving in March 1943 to enlist in the Army Air Corps. As the youngest squadron navigator in his bomb group, he earned the Distinguished Flying Medal and four Air Medals, attaining the rank of lieutenant with the 414th Bomb Squadron of the 15th Air Force. Subsequently, he served in the U.S. Air Force Reserve.
On November 6, 1973, Byrne was elected governor by the then-record plurality of 721,378 votes over Congressman Charles Sandman, who had defeated incumbent Governor William Cahill in the June Republican primary.
Click here for Governor Byrne's full biography.
Cabinet and Staff
With the help of Transition Chairman Dick Leone, Governor Byrne put together his cabinet and staff in the wake of the federal Watergate scandal, and therefore with transparency as a high priority. Governor Byrne said, in an Eagleton Center on the American Governor interview, " The priorities were sort of, we called it government under glass. We were reacting to all the bad things that were happening in Washington, and we were saying we're going to have open government in New Jersey. So we did things like financial disclosures from all of the cabinet members in the key offices in state government." This extended to decisions about who would staff government, as well, with experience a high priority. Byrne said, " My inclination had been to use people who had been candidates and who were pretty good and knew government."
Governor Byrne's Staff
Chief of Staff
Robert E. Mulcahy III (1978-1979)
Harold L. Hodes (1980)
Deputy Chief of Staff
Harold Hodes (1978-1979)
Counsel to the Governor
Stewart G. Pollock (1979)
Daniel J. O' Hern (1980)
Press Secretary
Richard J. Campbell (1975-1977)
Kathryn A. Forsyth (1978-1980)
Continue to a full list of Governor Byrne's Cabinet and Staff
State Legislature During the Byrne Administration
The two chambers of the New Jersey legislature were controlled by the Democratic Party throughout Brendan Byrne's two terms as governor with solid majorities never less than 44 to 36 in the Assembly and 27 to 13 in the Senate.
| Year | Laws Enacted |
| --- | --- |
| 1974 | 197 |
| 1975 | 398 |
| 1976 | 141 |
| 1977 | 467 |
| 1978 | 187 |
| 1979 | 501 |
| 1980 | 187 |
| 1981 | 570 |
Click here for a list of all members of the New Jersey legislature during the years of the Byrne Administration.
State Supreme Court During the Byrne Administration
Having served previously as a judge and prosecutor, Brendan Byrne took a keen interest in the judicial branch. As Governor, he made five appointments to the Supreme Court, and also nominated four justices for tenure who were originally seated under his predecessor, Governor William Cahill. Over his eight years in office, Byrne either nominated or renominated six of the seven justices who were on the bench at the end of his term, including Chief Justice Robert N. Wilentz.
Appointed
Sidney M. Schreiber (2/28/1975 – 11/17/1984)
Robert N. Wilentz (6/10/1979 – 6/30/1996)
Alan B. Handler (3/23/1977 – 8/31/1999)
Steward G. Pollock (6/28/1979 – 8/31/1999)
Daniel J. O'Hern (8/11/1981 – 5/22/2000)
Reappointed
Worral F. Mountain (3/15/1971 – 6/27/1979)
Mark A. Sullivan (3/23/1973 – 8/10/1981)
Morris Pashman (6/16/1973 – 9/26/1982)
Robert L. Clifford (9/1/1973 – 12/16/1994
Job Approval Ratings
Brendan Byrne was elected into office in 1973 with what was then the largest landslide in New Jersey history. The perception of Byrne as "the man who couldn't be bought" made him immensely popular at a time when faith in government, both federal and state, was at a low point, as the Watergate scandal still captivated the nation's attention. The high approval did not last as Governor Byrne's approval rating saw significant highs and lows over the course of his two terms.
Click here for full analysis of Governor Byrne's job approval ratings.
Annual Budgets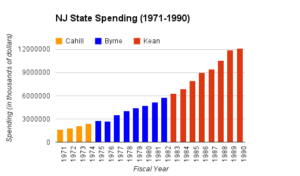 When Governor Brendan Byrne was sworn into office in January 1974, he inherited the 1974 fiscal year budget from his predecessor, Governor William T. Cahill. New Jersey had passed ten consecutive budgets with double-digit growths in spending. Byrne's first budget, passed in the summer of 1974, continued the steady expansion in state spending. However, in late 1974 the economy began to falter, creating a budget deficit and forcing cutbacks in state expenditures. In Byrne's second budget, for fiscal year 1976, the governor passed the first spending cuts the state had seen in more than twenty years.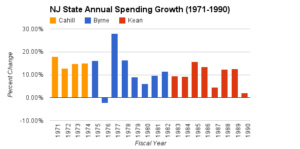 While forced to cut the budget to meet the challenges of slower economic growth within the state, Governor Byrne also had to satisfy a Supreme Court-ordered increase in education spending. In response, he proposed and, after a tough fight, gained legislative approval for the state's first income tax. The increase in revenue produced by the new tax allowed state spending to again increase, easing the pressure on the budget. Byrne's next several budgets resumed the levels of growth the state had been accustom to experiencing. The 1977 fiscal year budget grew by 28% over the previous year's level, and the 1978 fiscal year budget expanded by another 16%. Once in his second term Byrne eased the pace of growth, keeping the rate of expansion below 10% for three successive years. In his final year in office, Byrne passed a $5.7 billion dollar budget, spending almost twice the amount that was expended in his first budget.
Public Questions
While not under the control of the governor, the public questions that appear on the ballot each year provide valuable insight into some of the major issues the state faced in a given time period. In New Jersey, the public may see three different variety of public questions:
Constitutional Amendments, that will alter the state constitution
Bond issuances, that will raise money for large projects
Legislative referenda, which will enact new policies in the state
Click here for a list of all public questions considered during Governor Byrne's two terms in office.
The Humor of Governor Brendan Byrne
When Brendan Byrne was elected governor, he was not known as a particularly good or funny public speaker. That perception, which began to change during his eight years in office, was in subsequent years completely replaced by a reputation as a terrific story teller with a keen wit.
Click here for some of Governor Byrne's most famous humorous quotes.
Major Issues
The Eagleton Center on the American Governor has convened roundtable forum discussions on the following topics related to the Byrne Administration. Governor Byrne, members of his staff and cabinet, and other interested observers have participated in each event. The events were videotaped and are available in our Video Library.
The Center also has a collection of campaign advertisements from Governor Byrne's 1973 run for governor and  his 1977 campaign for re-election in the video archive.
Finally, the Center co-hosted a program on NJ Governors and the State Supreme Court with the New Jersey State Bar Association and the Institute for Continuing Legal Education. And on December 1, 2014, the Center on the American Governor hosted a celebration of the publication of a new biography of Governor Brendan Byrne.
Finally, the Center has created special sections on topics of particular interest to Governor Byrne and the Byrne administration. These sections include a combination of timelines, written analysis, interview excerpts, and roundtable discussions. The topics are:
Outside Resources
Additional information about Governor Byrne can be found at:
Governor Byrne also participated in a long-running column in the Star-Ledger, in which he discussed the issues of the day with fellow former Governor Thomas Kean. An index to many of  those conversations is available here.