Governor Brendan T. Byrne Biography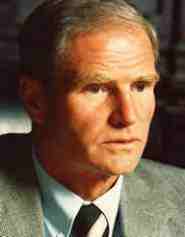 Governor Byrne (1924-2018) was born in West Orange on April 1, 1924. His father, Francis A. Byrne, served for 15 years on the municipal governing body of West Orange and was appointed by successive governors to terms on the State Tax Commission.
Brendan Byrne graduated from West Orange High School in 1942, where he served as president of the debate club and senior class president. He briefly attended Seton Hall University in South Orange before leaving in March 1943 to enlist in the Army Air Corps. As the youngest squadron navigator in his bomb group, he earned the Distinguished Flying Medal and four Air Medals, attaining the rank of lieutenant with the 414th Bomb Squadron of the 15th Air Force. Subsequently, he served in the U.S. Air Force Reserve.
When he was discharged from the Army in September 1945, he proceeded to pursue a plan that would eventually secure his long-time goal of enrolling at Harvard Law School. Advised by Harvard Law's veterans counselor that undergraduate work at Williams or Princeton would best set him on a path to admission. He chose Princeton because it had a semester starting in November, and the GI Bill paid his tuition — $600 a semester — along with a stipend for living expenses. Majoring in its School of Public and International Affairs, he graduated in 1949 from Princeton after two years, with enough GI Bill credit left to pay for his first two years at Harvard Law. He received his law degree from Harvard University and was admitted to the New Jersey bar in 1951. After serving his legal clerkship with Judge Joseph Weintraub — who later became Chief Justice of New Jersey — Governor Byrne practiced law with the Newark firm of John W. McGeehan Jr.. He later joined the firm of Teltser and Greenberg in East Orange.
In October 1955, he was appointed an assistant counsel to Governor Robert B. Meyner; later he was named Governor Meyner's acting executive secretary in 1956. Following a political stalemate between the two leading Democratic Party officials in Essex County over the appointment of a new County prosecutor, in 1958 Governor Meyner named him as deputy attorney general in charge of the Essex County Prosecutor's Office. Governor Meyner then nominated him to a full five-year term as Essex County prosecutor in July 1959, and he was re-appointed by Governor Richard J. Hughes in 1964. In 1968, Governor Hughes appointed him president of the Board of Public Utilities Commissioners, where he served until 1970, when he was appointed to the Superior Court by Governor William T. Cahill. During his service as a judge, he was designated by the Chief Justice in 1972 as assignment judge for Morris, Sussex and Warren Counties.
Byrne resigned as a judge in April, 1973, to become a candidate for governor, his first attempt to run for an elected public office. He was encouraged to consider entering the gubernatorial race by key Democratic political leaders, who viewed his record as a judge and prosecutor as particularly attractive to voters in light of a series of corruption scandals that had implicated Republican State local officials, fundraisers and advisers and also to confront widespread public concern over soaring crime rates. As a prosecutor, Mr. Byrne also had received media attention after the release of an FBI wiretap tape that recorded an alleged organized crime figure stating that Mr. Byrne was a law enforcement official "…who couldn't be bought." He won the June Democratic primary election with 193,120 votes, a 76,000 vote margin over second-place finisher Anne Klein and a 98,000 vote margin over third-place finisher Ralph DeRose, a State Senator from Essex County.
On November 6, 1973, Byrne was elected governor by the then-record plurality of 721,378 votes over Congressman Charles Sandman, who had defeated incumbent Governor William Cahill in the June Republican primary. The controversial school finance and tax reform program, enacted in 1976, increased the state's share of public school costs to meet a State Supreme Court mandate in the Robinson v. Cahill decision, and provided a variety of other forms of property tax relief, all financed by the first State income tax. It included new programs of state revenue sharing, and property tax rebates to homeowners. The program, however, was approved only after the Supreme Court ordered public schools closed as of July 1, 1976, until the Legislature approved the package of legislation. The program also contributed to a sharp fall in public support for Governor Byrne, who had stated in his first campaign for Governor that he did not see the need for an income tax in "the foreseeable future."
The Governor's perceived political weakness also led to challenges to his nomination for re-election in the 1977 Democratic primary by 10 opponents, including Congressmen Robert Roe and James Florio, and Essex County State Senator Ralph DeRose, who had also been a primary candidate in 1973. The Governor won the primary with 175,448 votes, an approximate 40,000 vote margin over Congressman Roe; 75,000 vote margin over Senator De Rose; and 150,000 vote margin over Congressman Florio. On November 8, 1977, Governor Byrne was elected in the November general election to a second term with 1,184,564 votes, a plurality of 295,684 over his Republican opponent, former State Senator Raymond H. Bateman. The election returns were viewed as a vindication of the governor's steadfast support of the school reform program and the imposition of the personal income tax, which had been enacted over bitter opposition during his first term.
During the course of the campaign, the Governor overcame a 20-point lead for Senator Bateman in most polls, primarily by attacking as irresponsible the so-called "Bateman-Simon" proposed plan (named for the Senator and his key adviser former Nixon Administration Treasury Secretary William E. Simon) for replacing the 1976 income tax program.
Aided by the momentum of his surprising election victory, the Governor's second term was marked by a series of initiatives. These included reorganization of the Governor's staff through the creation of the position of chief-of-staff and the office of policy and planning that coordinated planning and development through the Cabinet Development Committee. Capital projects included the opening of new casino-hotels and other development in Atlantic City; the construction of major highway segments such as Interstate 287 and the expansion of the Atlantic City Expressway; and the development and modernization of sewage and water supply facilities. In the last year of the Administration, the Governor also proposed adding State capital support for urban redevelopment through the Community Development Bond Act, which later provided the seed money for the construction of the New Jersey Performing Arts Center in Newark and the Liberty Science Center in Jersey City.
The Governor also proposed new tax incentives for urban investment, which later were adopted through passage of the State enterprise zone program. After he left office in January 1982, Governor Byrne became a senior partner with the law firm currently known as Carella, Byrne, Bain, Gilfillan, Cecchi, Stewart & Olstein in Roseland, which includes Charles Carella, who had served as the Governor's executive secretary and executive director of the New Jersey Lottery Commission during his Administration.
Governor Byrne also has served on the boards of directors of several corporations and nonprofit organizations, including The Prudential Life Insurance Company of America; Chelsea GA; Carvel Foundation; Elizabethtown Water Company; Jamesway Corporation; Mack-Cali Realty Company; New Jersey Chamber of Commerce; and the editorial board of the New Jersey Law Journal.
Governor Byrne also has taught courses in political leadership and New Jersey government at Princeton University and Rutgers University and lectured at several other universities and colleges.
Governor Byrne and his first wife, Jean Featherly Byrne, had seven children: Brendan Thomas Byrne Jr., born June 9, 1954; Susan, March 23, 1956 (deceased June 27, 2006); Nancy, November 10, 1957; Timothy, June 6, 1961; Mary Anne, August 13, 1963; Barbara, February 11, 1967; and William, September 27, 1969.
Governor Byrne's first marriage to Jean Featherly Byrne ended in divorce. He later married Ruthi Zinn Byrne, president of Zinn, Graves & Field, a public relations firm. Governor Byrne died on January 4, 2018, at the age of 93.