Academic Research
Research is an important part of the mission of the Eagleton Center on the American Governor. We are always looking for questions to address and topics to explore and welcome suggestions and contributions. The initial focus of the Center's academic research effort was the Center on the American Governor Grants Program. The political science scholars listed here were awarded grants by the Center on the American Governor to conduct research about aspects of The American Governor: Politics, Policy, Power and Leadership. The grants program, funded by the Rutgers Executive Vice President for Academic Affairs, was designed to attract new attention to a largely unexplored multi-disciplinary academic subject area and to promote the development and dissemination of scholarly research on the role, responsibilities and leadership of the states' chief executives.
We have to this point awarded two rounds of grants. The titles and authors these projects are available below. In 2015, Palgrave MacMillan published an edited collection consisting of work done by Center on the American Governor grantees and edited by former Eagleton professor David Redlawsk. The volume is titled The American Governor: Power, Constraint, and Leadership in the States.
Past Grantees and Projects
American Cicero: Mario Cuomo and the Decline of Liberal Politics in America
Saladin Ambar, Rutgers University
The Determinants of Gubernatorial Vetoes: Spatial Models versus High Veto Configurations
Nathaniel Birkhead, Kansas State University
Jeffrey Harden,University of Notre Dame

Governor Claude Kirk, Media, and the Politics of Busing
Matthew Delmont, Dartmouth College
Estimating Gubernatorial Common Space Scores in the 50 States
Matthew Hall, University of Notre Dame
Jason Windett, UNC-Charlotte
Judicial Decision-Making on Executive Power Challenges in the U.S. States, 1980-2010
Gbemende Johnson, Hamilton College
South by South Asian: Bobby Jindal, Nikki Haley, and the Remarkable Rise of Two Indian Governors in Dixie
Jason Kirk, Elon University
A Stranglehold on Power: Explaining Gubernatorial Stability in Iowa
Chris Larimer, University of Northern Iowa

Gubernatorial Veto Powers and Legislative Coalitions
Robert McGrath, George Mason University
Jon Rogowski, Harvard University
Josh Ryan, Utah State University
The Governor and Executive Branch Officials: Exploring Coordination, Competency, and Representation
Susan Miller, University of South Carolina
Governors and the Politics of Scandal
Brendan Nyhan, Dartmouth College

Economic Policy Outcomes and Gubernatorial Evaluations: An Experimental Investigation
Zachary Peskowitz, Emory University
Kyle Dropp, Chief Research Officer, Morning Consult
Unilateral Orders at the State Level
Brandon Rottinghaus, University of Houston
Common Space Ideological Scores for Governors in the 50 States, 1993-2013
Boris Shor, University of Houston
Woodrow Wilson and the Pragmatist Tradition in American Politics
Trygve Throntveit, Harvard University
Examining the Role of Governors on Immigration Legislation and Policies
Sophia Wallace, University of Washington
Other Research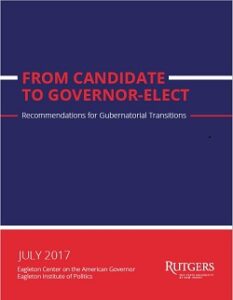 The Eagleton Center on the American Governor periodically releases research reports on topics relevant to the office of the governor. Three of these research reports are available below. Further research and analysis can be found in the New Jersey Governors section and the United States Governors section. Research reports and shorter analytical pieces can also be found in our "Perspectives" series in News & Updates.
Future Research
We are not currently accepting grant applications for future research, but we welcome those working on academic projects related to the office of the governor to contact us at governors@eagleton.rutgers.edu to be added to our database. We will then contact you if future grant opportunities relevant to your project become available.