Governor Thomas H. Kean Biography
Family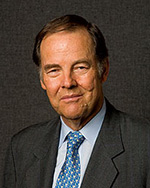 Thomas Howard Kean served two terms as governor of New Jersey from January 1982 to January 1990. The State's 48th governor, he is a descendant of its very first constitutional governor, William Livingston, who was elected by the first state legislature in August 1776 and also led its militia during the Revolutionary War, going on to be elected for 13 single-year terms as governor until dying in office in 1790.
Tom Kean was born April 21, 1935 in New York City into one of the most prominent families in the country. His mother– the former Elizabeth Stuyvesant Howard–was a member of the Stuyvesant family established in this country by Peter Stuyvesant, the Dutch colonial governor of Nieuw Amsterdam. His grandmother, Katharine Winthrop, was a direct descendant of John Winthrop, the first governor of the Massachusetts Bay Colony.
The family of his father–Robert Winthrop Kean–also produced some of the nation's key leaders over two centuries. John Kean, Tom's great-great-grandfather, served as a delegate from South Carolina to the Continental Congress and as the first Cashier of the Bank of the United States; his second great-uncle, Hamilton Fish, was a U.S. Senator, Governor of New York and U.S. Secretary of State. His great-uncle John was US Senator from New Jersey ifrom 1899 to 1911 and also served two separate terms in the United States House of Representatives, from 1883 to 1885, and from 1887 to 1889.
John Kean's brother, and Tom Kean's grandfather, Hamilton Fish Kean, also was elected to the Senate from New Jersey in 1928, serving a single six-year term before being defeated for re-election. The campus of Kean University in Union, New Jersey, now includes the historic Kean estate, Liberty Hall, and the University is named in the family's honor to recognize their support of the institution's growth from its origins as a teacher's college.
When Tom Kean was only three years old, his father Robert W. Kean was elected to the House of Representatives from New Jersey, representing New Jersey's 12 th district in Essex County for twenty years until, giving up his House seat to run unsuccessfully in 1958 as the Republican nominee for U.S. Senate. During his years in Congress, Robert Kean was a leading advocate for more urgent efforts by the Allies to rescue Jews from the Holocaust; domestically, he worked to expand Social Security to cover more segments of the workforce such as the self-employed. Congressman Kean also was one of the first House Republicans to urge General Dwight David Eisenhower to seek the Party's presidential nomination.
Education
After spending his early years largely in New Jersey and Washington, in 1946, when he was eleven, Tom Kean's parents enrolled him in St. Mark's School in Southborough, Massachusetts, a private boarding school established in 1865 as an affiliate of the Episcopal Church. His father also had attended. St. Mark's and its prominent alumni included Theodore Roosevelt.
Under the guidance William Gaccon, an influential Latin teacher and housemaster and graduate of Cambridge University who had served in the British Navy during World War II, Tom gained self-confidence and worked on correcting his childhood stutter, while also picking up the British-tinged accent that would later set him apart in the world of New Jersey politics.
His favorite subject was history, a shared interest of his father, and a natural outgrowth of the stories he had heard of his own family's important historical role in both the Old and New Worlds. Religion, which was a compulsory subject at St. Mark's, also attracted him. He helped found the Society of St. Andrew, a religious orgnization, as well as participating on the debate team and in the French and drama clubs. Students also were encouraged to follow current events, with the mandated reading of Time magazine; at the age of thirteen, Tom's father took him and his sister to the 1948 Republican National Convention in Philadelphia, at which Thomas Dewey was nominated for president. Back at St. Mark's, Tom wrote a semi-weekly political column for the student newspaper that he titled '"Sound and Fury".
Another experience that would have lasting impact on Tom was his role as a counselor at Brantwood Camp, the summer camp for underprivileged children aged twelve to fifteen that St. Mark's sponsored. He would spend his final two summers while at St. Mark's at the camp, and later return for four additional summers while he was attending Princeton, eventually being named associate and assstant director of the camp.
Aided by an improvement in his rather average grades during his last two years at St. Mark's, Tom enrolled in Princeton University, which his two older brothers had attended. He avoided much of the social networks anchored by Princeton's dining club system and major extra-curricular commitments, preferring to focus in his spare time on planning for the next summer's programs at Brantwood Camp. For his senior thesis, he chose to write about the life of a Polish nobleman, Count Julian Ursin Niemcewicz, who after attempting to found republican democracies in Poland modeled on the new United States, emigrated to America, later marrying in 1800 Susan Livingston Kean, the widow of John Kean, a wealthy South Carolina merchant who had died in 1795 after serving in the Continental Congress and, upon appointment by President Washington, as the first Cashier of the Bank of the United States. He graduated from Princeton in 1957 with a B.A. after majoring in history.
Early Career
Kean's first exposure to grass-roots politics came in 1958 while working on his father's Senate campaign. His father won the Republican nomination, but lost in the general election to Harrison A. Williams, who would serve until resigning in 1982 after his involvement in the FBI's Abscam sting. After the election, Tom went on to accept a job teaching history at St. Marks for three years, then leaving to earn his MA in history from the Teachers College at Columbia University.
Kean was in New York City in the turbulent 1960's. The November 1963 assassination of John F. Kennedy, a hero of his, was a significant factor inspiring him to enter public service. In 1964, he became the Youth Coordinator for Pennsylvania Governor William W. Scranton's late bid for the Republican nomination for president. Scranton reminded Kean of JFK; Scranton's attempt to block Barry Goldwater from gaining the nomination impressed Kean because Goldwater had voted against the Civil Rights Bill which Kean strongly supported. Scranton's bid failed, but Kean returned to New Jersey with a renewed vigor for politics. His work for Scranton made him realize that major changes were going to be more likely at the state or local level rather than in Washington.
Legislator
In 1967 he ran and was elected to the New Jersey Assembly. A week into his term he proposed his first bill that would extend tax abatements to encourage new construction in Newark. Surprisingly, the bill passed unanimously and was signed by the Governor into law.
Following the 1971 election, Democrats gained a narrow majority in the General Assembly, but a faction led by Hudson County Assemblyman David Friedland provided Kean with enough Democratic votes to elect him as the new Speaker of the General Assembly, a postion normally held by the majority party. At age thirty-six he had become the youngest Speaker in the New Jersey history. During that year Kean pushed through the first anti-Vietnam War legislation in the country, pushed through legislation that increased penalties for unauthorized development of riparian lands (interface between land a stream) and threw himself behind measures that would have lowered the legal drinking age from twenty-one to eighteen. In 1973 he was reelected, unopposed, to serve as Speaker once more; he became the first person to serve two consecutive terms as Speaker. His most important achievement as Speaker came with the passing of the Coastal Area Facility Review Act. The act prevented those industries that were considered to the most likely to increase pollution from locating along the states coastline. He lobbied for it hard for two years and it passed through the assembly by a vote of 50-8. The act prohibited, in absence of approval from the state's Environmental Protection Dept., most construction near the Atlantic Ocean, the Raritan and Delaware Bay and the Delaware River, which amounts to 1,750 square miles or one-seventh of the state's landmass. Naturally, it met opposition and after being weakened with amendments, it was voted down in the initial vote in the State Senate. However, Kean did not rest (nor did the public) and the senate passed an amended version a month later.
On the heels of the landslide election of Brendan T. Byrne in 1973 as governor over Congressman Charles Sandman, the Republicans also experienced a sharp drop in their numbers in the Legislature, with the GOP"s share of the 80 Assembly seats dropping from 39 to 14 and former Speaker Kean now the Minority Leader. After losing an extremely close primary race to run for a U.S. Congress seat to Millicent Fenwick, Kean worked to find and support GOP candidates who would oust the Democratic Assembly incumbents. Aided by the backlash against the Democrats for their failed attempts to pass an income tax and the return of Republican voting districts to traditional voting patterns after the 1973 Democratic sweep, the election of 1975 saw Republicans more than doubling their minority in the Assembly, moving from 14 seats to 31.
Kean's political stature was also strengthened when he was named by President Gerald Ford in 1976 to run Ford's New Jersey presidential campaign. As the son of Ford's former House colleague Robert W. Kean,Tom Kean oversaw Ford;s wins in the New Jersey presidential primary over Ronald Reagan and In the New Jersey general election over Jimmy Carter, despite Ford's defeat in the national election by a 50 to 48 percent margin.
With Governor Byrne's popularity in sharp decline after his support of the State's first income tax finally enacted in July 1976, Assemblyman Kean announced that he would seek the Republican nomination for governor in 1977. His priincipal opponent in the Republican primary was former Senate President Raymond Bateman, who had previously run in the 1969 primary won by Congressman and later Governor William Cahill.
Despite his service to the Party as President Ford's New Jersey campaign manager in 1976, in the 1977 gubernatorial primary Kean was unable to gain former President' Ford's endorsement and, more significantly, the support of the chairs of leading county Republican organizations and lost the party nomination to Senator Bateman. In the general election–in one of the most surprising turns of political fortune in New Jersey history–Governor Byrne overcame Senator Bateman's strong early lead to win a comfortable victory, aided by the Republican campaign's failure to convince voters that it had a realistic alternative plan than the income tax to finance the State share for public education and other needs.
Governor
After his 1977 primary loss, Kean was appointed by Governor Byrne as a commissioner on the board of the New Jersey Highway Authority which operated the Garden State Parkway and also served as a political commentator on New Jersey public television. As Governor Byrne's second term drew to a close, Kean once again declared his candidacy for governor in the 1981 election. He promised that, if elected, he would focus on four goals: creating jobs, cleaning up toxic waste sites, reducing crime and preserving home rule. He also gained the endorsement in the eight-candidate GOP primary field of former President Ford, support he could not manage in 1977, with the former President traveling to New Jersey on April 2 to aid the Kean primary campaign.
Kean won the Republican nomination handily and immediately focused his attention on his opponent, Jim Florio, a congressman and former Assemblyman from south Jersey. Florio made it clear that he was running against Tom Kean as well as President Reagan's economic plan to sharply cut federal programs. The President made a couple of trips to the state in support of the Kean candidacy and reminded voters in taped television commercials that he wasn't running for the office of New Jersey governor, undermining the Democrats' attempt to link Kean with Reagan.
The election of 1981 would turn out to be the second most closely contested election in New Jersey history. Kean overcame a double-digit point lead to win by some 1,797 votes. On election night as it became clear that the race was very close and after protracted delay in reporting returns from Camden County, Governor Byrne ordered the State Police to impound the Camden voting machines. Following the election, another controversy erupted over the activities of a Ballot Security Task Force–including off-duty police officers carrying weapons in plain sight–created by the state and national Republican organizations to monitor strongly Democratic Essex County urban voting precincts and display signs warning that voter fraud could lead to prison. .A subsequent ivestigation by the county prosecutor found the actions "intentionally misleading", but nonetheless amounting to only "technical" violations of state law and no further action was taken. The subsequent recount delayed declaration of a winner for weeks after election day, slowing the progress of the transition to office for the new governor.
Kean's difficult first year in office was marked by conflicts with the Democratic majorities in the Legislature over fiscal policy. During the 1981 campaign, candidate Kean had pledged that he wouldn't raise the income tax and that he'd reduce the sales tax by a penny, making up for the lost revenue by cutting "waste and abuse" in state government. Once in office, though, facing a substantial deficit and after failing to gain sufficient support for his own revenue-raising program that featured a gasoline tax increase, the Governor reluctantly signed legislation increasing the income tax on higher-income taxpayers and also hiking the sales tax by a penny.
As a former teacher, education policy was of special importance for the governor. Following the report A Nation At Risk, which warned of the growing threat the United States faced if the quality of education continued to decline, Kean began an even greater effort for education reform. He proposed, among other things, raising beginning teacher salaries from an average of about $12,5000 to $18,500; instituting statewide high school graduation tests and adopting new approaches to education in urban schools. Kean proposed an alternate teacher certification policy under which those wishing to become teachers would not have to major in education but could become teachers by passing a nationally devised test in their fields or, for elementary teachers, a test in general knowledge. The Kean Administration also established a series of Governor's Schools offering summer programs open by competition to students throughout the State focused on disciplines such as global studies, sciences and environmental studies to encourage higher school standards.
As governor, Kean's education reform program included legislation to authorize the State government to take over operations of consistently failing school districts for a minimum of five years. Faced with opposition from city governments and teachers unions, the bill initially was rejected in the State Senate by a vote of 21 to 18, but was subsequently enacted following compromises and active lobbying by the Administration. The takeover legislation was first implemented in 1989 when the New Jersey Board of Education abolished Jersey City's school board, fired its superintendents and administrators and replaced them with Sate-appointed individuals.
On the national level, the Governor also was named as chairman of the Education Commission of the States, a forum that allowed governors, legislators, educators and others to discuss and evaluate programs across the country. He was succeeded as chairman by then Arkansas governor, Bill Clinton, with whom Kean would develop a lasting friendship.
Kean's environmental record was highlighted by his aggressive push for legislation to protect freshwater wetlands and create a buffer zone adjoining the wetlands new construction could not take place. Employing a tactic of Governor Byrne's in the battle to preseve the Pinelands, the Governor issued an executive order imposing a moratorium of the grant of permits in wetlands areas, thus exerting great pressure on the Legislature to take action on the pending bill. Kean also faced repeated incidents of toxic waste spills, including a fifty-mile long slick of medical waste that washed up on the Jersey shore in the height of the summer beach season in August 1987; the discovery of high levels of dioxin in the Ironbound section of Newark.
Public concern over the health impacts of toxic chemicals also led to the controversial enactment in August 1983 of "right-to-know' legislation requiring manufacturers to list the chemical names of all hazardous and nonhazardous chemicals with which workers could come into contact.
Four years after his narrow 1,700-vote victory over Congressman Florio, Governor Kean won reelection by the widest margin in state history. Defeating Democrat Peter Shapiro with 68 percent of the vote, the Governor carried all twenty-one counties and all but three of the 567 municipalities.
In 1988, reflecting his stature as an up-and-coming leader of the Republican Party's moderate wing, Kean delivered the keynote speech at the 1988 Republican National Convention in New Orleans. The same year, he also authored a book, The Politics of Inclusion, published by Free Press, which urged political cooperation among historically divided interest groups and politicians.
College President
Limited to two consecutive terms by the New Jersey State Constitution, Governor Kean announced in February 1989 that he had accepted the position of president of Drew University in Madison effective after he would leave office in January 1990. Founded in 1867 as a Methodist seminary with the support of a gift from Daniel Drew, a Wall Street financier and rival of Cornelius Vanderbilt in the steamboat business, Drew added a College of Liberal Arts with the aid of major gift received in 1928. The new school began as a small college for men, started to admit women during the 1940s, and expanded significantly in the 1960s. In the early 1980s, it was granted what is still only the third Phi Beta Kappa chapter in the state. The College of Liberal Arts, now with about 1,600 students and 120 full-time faculty members, is today the largest unit within the university. The Caspersen School of Graduate Studies, named in 1999 to recognize the support of close Kean friends Finn and Barbara Caspersen, focuses on advanced study in the humanities, was founded in 1955. The Drew Theological School, the contemporary tie to the school's founding as a seminary, now offers doctoral and master's programs in such fields as religious history, biblical studies, philosophy, Christian ethics, and the anthropology, psychology and sociology of religion.
During President Kean's 15-year tenure, he focused on soliciting expanded support of Drew's endowment, which nearly tripled during his presidency, recruiting leading faculty and renewing the school's capital facilities, including investing $60 million in construction and renovation of new and renovation older buildings such as student residence halls.
On April 21, 2012, Drew dedicated the Thomas H. Kean Reading Room & Gallery at the University Library. The room includes a collection of papers, photographs and other material from Kean's two terms as governor as well as records related to his tenure as president of Drew.
9/11 Commission
While serving as Drew president, Kean also gained national attention for himself and the University when President George W. Bush named him in December 2002 as chairman of the National Commission on Terrorist Attacks Upon the United States, which came to be popularly known as "the 9-11 Commission." Henry Kissinger, the President's first choice, had resigned as the chair some weeks after his appointment due to potential conflicts with his business interests and criticism over his former and current ties to organizations and individuals. The Bush Administration had initially opposed the creation of the Commission, but then bowed to pressure from the Congress and the media in reluctantly approving the investigation.
In his role as chairman, Kean worked hard to develop a bi-partisan approach among the Commission members, working particularly closely with the Vice Chairman, former Democratic Congressman Lee Hamilton of Indiana. The Commission faced a series of conflicts with the Administration, initially gaining over White House opposition increased funding for its investigation and then confronting a lack of cooperation form the White House and key agencies such as the Defense Department, the CIA and the Federal Aviation Administration. After a series of public hearings, the Commission issued its final report on July 22, 2004, proposing a series of recommendations to restructure the nation's intelligence agencies and strengthen counter-terrorism programs.
Following the formal end of the Commission's work, Chairman Kean and other commissioners established the 9/11 Public Discourse Project, with support from private foundations, to educate the public about the 9-11 Commission's proposals for reform. The former commissioners, staff and others testified before numerous committees of the Congress, sponsored public forums, appeared at over 500 speaking and educational events in 36 states. and issued several detailed reports assessing the implementation of the Commission recommendations. Finally, Chairman Kean and Vice Chairman Hamilton co-wrote a book published in August 2006, Without Precedent: The Inside Story of the 9/11 Commission, which criticized the lack of cooperation and misleading information that the Commssion had received from key agencies and officials.