Governor William T. Cahill Biography
This Biography was reprinted with the permission of Rutgers University Press from:
The Governors of New Jersey: Biographical Essays;
Editors: Michael J. Birkner, Donald Linky, Peter Mickulas
Rutgers University Press; Revised and Updated; 2014
Early Life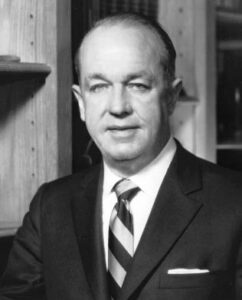 William Thomas Cahill (June 25, 1912 – July 1, 1996) was born in Philadelphia. His parents, William and Rose (Golden) Cahill, moved to Camden in 1919. William, their only child, attended St. Mary's Grammar School and Camden Catholic High School. He grad­uated with a B.A. degree from Philadelphia's St. Joseph's College in 1933. While attending South Jersey (Rutgers) Law School and receiv­ing the LL.B. in 1937, he taught in the Camden public school system. Cahill served briefly as an FBI agent, but after passing the state bar in 1939, he entered the private practice of law in Camden. On February 1, 1941, he was mar­ried to a former high school classmate, Eliza­beth Myrtetus. The couple would eventually have eight children, six girls and two boys.
At various times Cahill filled public offices typically held by politically oriented lawyers. He was Camden city prosecu­tor, 1944 – 45, and assistant county prosecutor, 1948 – 51. As a special deputy attorney general in 1951 he took part in a state investigation of organized crime and gambling in Bergen County. In 1951 Cahill also made his first try for elective public office, a successful campaign for state assemblyman. He served but one term, choosing a return to full-time law practice after the end of the 1953 legislative session. In 1958 he returned to the political wars, winning a congressional seat in a district drawn from Camden, Gloucester, and Salem Counties. He was reelected from this First District in 1960, 1962, and 1964 and, following reapportionment, from the Sixth District in 1966 and 1968. In the House of Representatives, Cahill was a member of the Judi­ciary Committee. He took particular interest in anticrime, civil rights, and consumer affairs legislation, but he was also active in such areas as medi­cal education, housing, and immigration. Cahill developed an issue image much like that of United States Senator Clifford P. Case, one of moderate-to-liberal Republicanism. And, like Case, he generally enjoyed the support of organized labor.
Governorship
Cahill's name was presented to the GOP's screening committee as a pos­sible gubernatorial nominee in 1965, but he eventually withdrew it. He did not contest the nomination of state senator Wayne Dumont, Jr. (Dumont, however, had to overcome a primary challenge by South Jersey Congress­man Charles W. Sandman.) In 1969 Cahill, Sandman, and three other GOP hopefuls engaged in a free-swinging primary battle. Cahill was triumphant. He had received strong support from Bergen County party chairman Nelson Gross, who was riding the crest of his own success as Richard M. Nixon's New Jersey strategist in 1968. During both primary and general election cam­paigns Cahill projected a political personality as a blunt, forthright individ­ual balanced by a quick smile and the traditional Irish sense of humor. Physi­cally, in 1969 he was of medium build, five feet nine inches and 175 pounds, with gray hair and a ruddy complexion.
Cahill's Democratic opponent in the gubernatorial contest was former governor Robert B. Meyner, who argued that he had the experience and sen­sitivity to meet the challenges ahead. It was "a matter of record," the Demo­cratic nominee argued, that he had the capacity to manage the state's affairs prudently and effectively. Cahill, for his part, characterized the Meyner administrations of the 1950s as "do-little," and he argued that Meyner him­self was a passé politician who lacked the vision necessary to handle the increasing responsibilities of the governorship. Cahill endeavored to project the image of a dynamic, progressive statesman — "the" man to meet the needs of New Jersey.
There was more to the 1969 campaign than image projection; there were gut political questions as well. Could the Republicans sustain their party's momentum after the Nixon landslide? Would the hostility of Hudson County boss John V. Kenny and segments of organized labor deprive Meyner of the big-county vote usually considered essential for a Democratic victory? Did the voters want to give the GOP a chance at the statehouse after sixteen years of Democratic control? Did they accept the Republican cry that it was "Sixteen Years Downhill. Time to Go Cahill"? The answers to these questions were apparently all in the affirmative, for on November 4, 1969, the Republi­cans achieved a classic landslide victory. Cahill swept twenty of twenty-one counties, and his party won impressive majorities in both houses of the state legislature — thirty-one to nine in the senate, fifty-nine to twenty-one in the general assembly. Thus Cahill was in a position rare for a New Jersey gov­ernor — facing a friendly legislature — when he took over as the state's chief executive on January 20, 1970.
In his brief inaugural address Governor Cahill pledged to root out cor­ruption in government and refurbish the state's political image, badly tar­nished by recurrent scandals involving organized crime and errant public officials. In setting a functional tone for his administration, Cahill implied that he would continue down the paths mapped out by the regimes of the 1960s. He placed particular emphasis on doing more — and better — in the fields of education, law enforcement, and transportation, but he also prom­ised action in such areas as housing and health care. These programs would require funding, and here the new governor faced his first crisis: a projected $268 million deficit for fiscal 1971. The outgoing Hughes administration had largely developed the budget for the new year, but it was Cahill's responsi­bility to introduce it and suggest how to achieve the income-outgo balance mandated by the state constitution. Cahill opted for a two-cent increase in the sales tax to bridge the budget gap, and the GOP-controlled legislature passed an authorizing statute on February 9.
The governor believed that this was a stopgap measure — that the state sorely needed tax and administrative reform to meet the needs of the 1970s adequately and efficiently. Accordingly, two study groups were authorized by executive order in the spring of 1970. The first was the Governor's Man­agement Study Commission, headed by Prudential Insurance Company vice president William S. Field. The second, the New Jersey Tax Policy Committee, chaired by state senator Harry L. Sears, included such blue-ribbon names as former governors Driscoll and Hughes. The management committee would report back that November; the tax committee did not issue its report until February 1972.
Meanwhile, the governor took advantage of Republican dominance to move a diversified program through the legislature in 1970 – 71. In the field of education, for example, Rutgers Medical School was merged with the New Jersey College of Medicine and Dentistry, a program of state aid to private and parochial schools was inaugurated, and in October 1970 the so-called Bateman School Funding Act was passed. This law attempted to provide additional state funds for ratable-poor school districts and those with large numbers of disadvantaged students. Finally, in November 1971, the voters approved a $155 million bond issue for higher-education facilities.
In the area of law enforcement new legislation placed prosecutors in the six most populous counties on a full-time basis and created a Division of Criminal Justice to aid the attorney general in dealing with statewide crime and official corruption. In November 1970 the life of the temporary State Commission of Investigation, set up in 1968 to combat organized crime, was extended for five years. Cahill also promoted an ambitious drug-control program that received statutory foundation in a Controlled Dangerous Substances law, as well as in new measures dealing with drug education and treatment.
The 1970 – 71 legislators, active in the environmental field, passed a solid-waste-management act promoting regional solutions to New Jersey's refuse problems and a wetlands act giving the state controls over land use and pol­lution in estuaries and tidal areas. In November 1971 an $80 million "Green Acres" bond issue was approved, enabling New Jersey to continue its pro­gram of acquiring land for recreation and conservation. The Republican administration could also claim credit for a consumer-protection law and a new program of financial aid to New Jersey's urban centers.
As indicated, Cahill's administrative study commission issued its report late in 1970. Reflecting a business management perspective, the report con­tained some seven hundred recommendations covering the state's seventeen principal departments, as well as sundry state and interstate agencies. One of its major aims was to reduce the governor's span of control by consolidat­ing the functions of fifteen departments into four new "super-departments" — administration, planning and control, public services, and development. A reorganized attorney general's department would remain, but the secre­tary of state would be reduced to the role of the governor's political adviser, with scant administrative responsibility. A second key goal was to give the governor a centralized bloc of management controls — personnel, budget­ing, purchasing, planning — over the state bureaucracy. The Civil Service Commission was to be abolished, and many of its functions would be trans­ferred to the proposed department of administration.
Such drastic executive-branch changes would upset existing agency-clientele relationships, reduce the number of patronage positions available for political favorites, and decimate the civil service system — small won­der, then, that the legislature rejected the commission's two central themes. Nonetheless, the Cahill administration carried out a number of its sugges­tions via executive order, administrative directive, and, in a few cases, spe­cific statutory authorization.
As William Cahill closed out the first half of his term, he had a generally impressive record. In addition to legislative and administrative accomplish­ments, it contained other "plus" items. Under his aegis a successful state lot­tery was begun, the New York football Giants were enticed into the sports complex being constructed in the Hackensack Meadows, and riots in the Rahway prison and Yardville correctional center were dealt with in a firm yet humane manner. On the negative side, New Jersey's cities showed few signs of revival, a chronic housing shortage continued, and the costs of pro­liferating welfare and education programs put inexorable pressure on the state budget. Two special messages from the governor failed to stimulate legislative action in the housing crisis. Finally, the November 1971 elections curbed Republican legislative power. The GOP majority in the senate was reduced to twenty-four to sixteen, while the new assembly contained forty Democrats, thirty-nine Republicans, and one independent. The votes of four Hudson County Democrats enabled the GOP to secure the assembly speak­ership for 1972 – 73, but the party situation in the lower house was perilously close to stalemate.
The watershed year of the Cahill administration was 1972, the year it at­tempted basic fiscal reform, failed, and never regained its momentum. As the year began events conspired to bring the state's fiscal problems into sharp focus. On January 19 Superior Court Judge Theodore Botter, in the landmark case Robinson v. Cahill, declared New Jersey's system of school finance un­constitutional and mandated that the legislature develop a new one. On Feb­ruary 14 Cahill presented the state with its first $2 billion budget, including a projected deficit of $126.8 million. On February 23 New Jersey's Tax Policy Committee submitted its five-volume report and recommendations.
The committee's objective was a "balanced" tax structure for New Jersey, to be achieved by drastically reducing the role of the local property tax in New Jersey finance. The committee proposed that the state assume most of the responsibility for school support, that counties be relieved of such finan­cial burdens as courts and welfare, and that a new, bloc-grant approach to urban aid be adopted. To fund this revolutionary shift in state-local respon­sibilities, the committee proposed a new statewide property tax of $1 per $100 of assessed valuation, a graduated income tax at rates ranging from 1.5 to 14 percent, and the elimination of various exemptions in the sales tax.
The governor said little about the report for the next few months, waiting to see what the public reaction would be. This showed that New Jersey's tra­ditional hostility towards the concept of an income tax was still very much alive. Cahill finally resolved to take the offensive and on June 1 began a cru­sade in the press and on the podium to promote the basics of the commit­tee program. Concurrently, GOP assembly leader Richard DeKorte prepared and introduced bills, and a special summer session of the legislature was convened. Despite the governor's salesmanship, the income-tax bill — the centerpiece of his fiscal reform package — was slaughtered in the assembly by a fifty-two-to-twenty-three vote on July 17, 1972.
The governor had other setbacks. During the summer indictments were returned against Cahill's longtime friend and confidant Secretary of State Paul J. Sherwin and GOP fund-raiser William C. Loughran, on bribery and extortion charges arising out of a highway construction contract. The two men were tried and convicted in October, tarnishing the administration's anticorruption image. The press also charged that the attorney general's office had tried to "cover up" the Sherwin affair. (This charge was later inves­tigated and refuted by a special prosecutor.) In the November 1972 general elections the voters rejected a $650 million bond issue designed to update the state's highway and mass-transit systems, as well as a proposed constitu­tional amendment that would have given the governor power to remove the secretary of state and attorney general at pleasure. (The 1947 constitution had specifically exempted these positions from the chief executive's broad removal power.)
Although the Cahill administration had clearly lost much of its initia­tive and at least some of its image, Richard M. Nixon's 1972 landslide vic­tory in New Jersey led political seers to assert, as 1973 opened, that Cahill would again be the Republican standard-bearer and that he would be almost impossible to beat in the upcoming gubernatorial contest. The governor himself presented an annual message to the legislature, on January 8, that was hardly a "farewell address" in tone and approach. Rather, Cahill spoke of unfinished business — in such areas as transportation, housing, urban aid, and environmental protection — and of his dream of continuing to strive for "the achievement of greatness" by the state of New Jersey.
Cahill once more pointed to the need for tax reform but handed the leg­islature the mantle of responsibility in that area. That the lawmakers would, however, bestir themselves in an election year was a dubious proposition, as Cahill himself realized. Hence, his policy recommendations (except for a new, urban-oriented Safe and Clean Streets proposal) generally required little new financing, and he designed his fiscal 1974 budget to use existing revenue sources. Representing a $333.8 million increase from 1973's $2 billion budget, it showed how the costs of education, welfare, and other ongoing programs were continuing to escalate.
Reelection Campaign
To no one's surprise, William Cahill announced on March 22, 1973, that he was a candidate for renomination. (Again to no one's surprise, Congress­man Sandman entered the primary lists as well.) Cahill brushed aside the corruption issue: "I have enough confidence in the people of New Jersey that they know Bill Cahill is honest and that they know Bill Cahill has done his best to root out corruption in every area." But the issue did not die. On April 8 the press reported that state and federal agents were probing the activi­ties of key administration and Republican figures. On April 19 indictments were returned against two GOP fund-raisers on bribery-conspiracy charges relating to the deposit of state funds in a politically favored bank. Then, in May there was a veritable parade of indictments involving various alleged irregularities, including aspects of the financing of Cahill's 1969 campaign. Among those indicted were former State Treasurer Joseph McCrane, Harry Sears, and Nelson Gross.
The simultaneous unraveling of the Watergate conspiracy added to the governor's woes. Press accounts embarrassing to incumbent President Nixon stood side by side with articles devastating to the cause of incumbent Governor Cahill. In the showdown vote on June 5 the governor carried only five counties, as Sandman secured the nomination in his third successive try. On the Democratic side former superior court judge Brendan T. Byrne, with strong organization support, easily won his party's nomination.
With politics taking center stage in the fall (all 120 legislative seats were at stake in 1973), Cahill conducted what was largely a holding operation to close out his gubernatorial term. He could, however, look back on another productive two years of policymaking, for the 1972 – 73 legislature added sig­nificant measures to the statute books. A modern optional charter law was passed for New Jersey counties, paralleling the Faulkner Act for municipali­ties; the Safe and Clean Neighborhoods Act was approved and funded; the state began a program of service grants to private colleges and universities; no-fault automobile insurance was introduced; a health-care facilities act was passed, as was legislation designed to cope with problem juveniles. The Coastal Area Facilities Review Act of 1973 (CAFRA) marked another major assumption of power by state government in the area of land-use control. On the other hand Cahill failed in his efforts to obtain a general overhaul of New Jersey's planning and zoning laws. The legislature also refused to act on tax reform in 1973 despite a state supreme court decision on April 3, 1973, upholding the major thrust of the Botter ruling.
Following the November elections, the governor and his staff devoted most of their energies to budget preparation and to orienting the Byrne team to the responsibilities it would assume in January. William Cahill then returned to private life and the practice of law. He died in Haddonfield on July 1, 1996.
Author: Richard J. Connors
Citations
Records of Governor William T. Cahill, New Jersey State Library, Trenton, N.J.
Felzenberg, Alvin S. "The Impact of Gubernatorial Style on Policy Outcomes: An In-Depth Study of Three New Jersey Governors." Ph.D. dissertation, Princeton Uni­versity, 1978.