Governor Richard J. Hughes Collection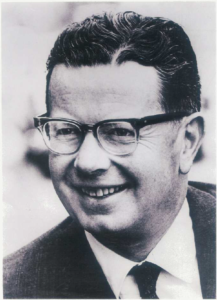 Governor of New Jersey 1962-1970
Richard J. Hughes served two terms as governor of New Jersey. Hughes was selected by his successor, Republican Governor William P. Cahill, as Chief Justice of the Supreme Court of New Jersey in November 1973. He is the only person to have served as New Jersey's Governor and Chief Justice of its State Supreme Court (1973-79).
Click here for a full biography of Governor Richard Hughes.
Interviews and Recollections
The Eagleton Center on the American Governor has a collection of full interviews and transcript excerpts related to Governor Hughes and the Hughes administration:
Events and Analysis
On November 19, 2009, the Eagleton Center on the American Governor hosted an event with John Wefing, author of a biography of Governor Hughes titled The Life and Times of Richard Hughes: The Politics of Civility. A full video of the event is available in the Video Library.