Pasta and Politics with Nick Acocella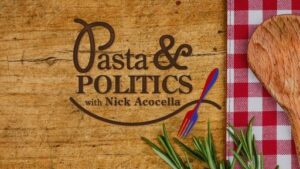 The Eagleton Center on the American Governor was saddened to hear of the death of Nick Acocella. Nick was a friend of the Center and an invaluable resource on New Jersey politics and history. He was also an accomplished chef and TV personality, hosting an NJTV series titled Pasta & Politics with Nick Acocella that brought two of his loves together: on each episode, he would cook an Italian dish with a guest from the New Jersey political world.
A number of times over the course of the show's four seasons, that guest was a sitting or former governor:
Nick's family has announced that two more unaired episodes of the program will run on NJTV on consecutive Wednesdays, July 1 and 8, at 8:00 p.m.
We send our condolences to Nick's family and friends.