Governor Jon S. Corzine Biography
Governor of New Jersey 2006-2010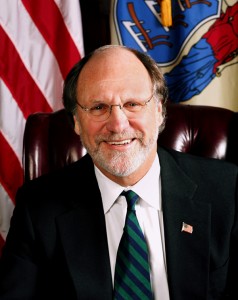 Jon S. Corzine was elected Governor of New Jersey on November 8, 2005, defeating Republican businessman, former Assistant State Treasurer and former Mayor of West Windsor Township Doug Forrester by a 54-43% margin. Corzine was inaugurated on January 17, 2006 and served until January 19, 2010, when he was succeeded by former U.S. Attorney Chris Christie.
The state's budget crisis quickly and necessarily became Corzine's first priority as he took over the governorship. Facing a $3.5 billion shortfall in the budget in effect when he took office and a potentially bigger gap in the upcoming budget, Corzine's first Budget Address on March 21, 2006 unveiled a budget that was designed to put the state "back on a sound long-term footing" by raising the sales tax and cutting $2 billion in spending. Despite Democratic control of both houses of the state legislature, the plan set off a battle with the legislative leadership, particularly in the Assembly. Led by Speaker Joe Roberts, Assembly Democrats specifically opposed Corzine's plan to raise the sales taxes by one penny to seven percent, revenue Corzine argued was necessary to set the state on firm long-term footing. The two sides failed to reach a compromise and on July 1, 2006, Corzine ordered a shutdown of all non-essential state government functions.
The shutdown continued for over a week until Corzine and the Assembly reached an agreement: the sales tax would increase by a penny, but half of the proceeds would be earmarked for property tax relief. The government re-opened on July 10 with polls showing that most New Jerseyans judged Corzine the "winner" of the showdown.
With his first budget out of the way, Corzine moved to put into place the progressive platform on which he had run for the governorship. His subsequent policy victories included an overhaul of the state's education funding formula; tightening of state government ethics regulations; property tax reform; improvements in the state's family leave laws; the passage of a state needle exchange bill; and the abolition of capital punishment in New Jersey. Corzine also presided over the creation of the State Comptroller's Office and the new Cabinet-level Department of Children and Families, negotiated a new contract with the state workers' unions, and signed a pension reform bill.
In 2007, facing what he considered to be an unsustainable state debt load, Corzine proposed to restructure that debt burden via what came to be known as "asset monetization," in which a newly-created quasi-public agency would borrow $38 billion, backed by future receipts of tolls on New Jersey roads. The plan, which would have required significant toll increases, faced immediate criticism and proved difficult to explain to voters. Despite a state-wide push, Corzine was forced to abandon the plan in 2008.
Governor Corzine's attempt to campaign on behalf of the asset monetization program was significantly hampered by the first of two outside events that proved to be significant obstacles during his term as governor. On April 12, 2007, Corzine suffered serious injuries when the State Police SUV in which he was a passenger crashed on the Garden State Parkway. Corzine was airlifted from the scene, spent two hours in surgery for multiple injuries and remained hospitalized for over two weeks until his return home on April 30. While Corzine was hospitalized—and for another week afterwards—Senate President Richard Codey (D) served as Acting Governor. Corzine re-took control of the governorship on May 7, but was unable to travel for much of the rest of the summer.
One year later, in the fall of 2008, Corzine was forced to respond to a different type of crisis. While the state's economy had been a challenge for Corzine from the day he won the governorship, in the fall of 2008, the entire nation's economy threatened collapse. As the U.S. Congress and national politicians struggled to address the failure of a number of the country's key financial institutions, Corzine and the state legislature attempted to minimize the impact on New Jersey citizens with a state stimulus package and mortgage assistance.
The "Great Recession" continued, however, into the gubernatorial election year of 2009. Voter economic anxiety seemed to contribute to the significant deficit Corzine faced in most polls as former U.S. Attorney Chris Christie won the Republican nomination to challenge him. As the year went on, the race tightened with independent candidate Chris Daggett also attracting attention. By November a Rutgers-Eagleton Poll showed the race too close to call while a Quinnipiac University poll showed Corzine with a five point lead. But on November 3, 2009, Christie defeated Corzine 49%-45%, ending Corzine's hopes for a second term.
Life Before Serving as Governor
Jon S. Corzine was born on January 1, 1947 in Taylorville, Illinois. He grew up on his family's farm in Wiley Station, Illinois; his father was a farmer and insurance salesman and his mother a teacher. Corzine graduated from the University of Illinois at Urbana-Champaign in 1969 and that same year enlisted in the U.S. Marine Corps Reserve and married his longtime girlfriend Joanne Dougherty. The couple would go on to have three children—Jennifer, Josh, and Jeffrey—over the course of a 33 year marriage before divorcing in 2003. Corzine later married Sharon Elghanayan, in 2010.
After finishing his service with the Marine Corps Reserves, Corzine took a job as a portfolio analyst at the Continental Illinois National Bank in Chicago and attended the University of Chicago Booth School of Business at night. He earned an M.B.A. in 1973 and two years later moved to New Jersey to become a bond trader at Goldman Sachs in New York City. By 1980, Corzine was a partner at Goldman Sachs and eventually—in 1994—became chairman and chief executive officer. As CEO, Corzine helped take the financial firm public before leaving in 1999.
After leaving Goldman Sachs, Corzine took his life in a new direction when in 1999 he announced that he would run for the U.S. Senate in the 2000 election, seeking the seat of the retiring long-time New Jersey Senator Frank Lautenberg (D). It would be an uphill climb. Corzine first faced a primary challenge from former New Jersey Governor Jim Florio, who led in early polls. After a long and largely self-funded, very expensive primary battle, however, Corzine emerged as the Democratic candidate, defeating Florio 58-42%. The general election against U.S. Representative Bob Franks proved to be closer, but Corzine again prevailed, 50-47%.
Corzine served as U.S. Senator from January 3, 2001 until January 17, 2006, when he resigned to officially take over as New Jersey governor. During his time in the Senate, Corzine cosponsored the Sarbanes-Oxley Act, the Darfur Peace and Accountability Act, and, in 2002, was elected chair of the Democratic Senatorial Campaign Committee. He also was one of only 23 votes against the 2002 resolution authorizing the use of force in Iraq.
In early 2005, Corzine announced that he was entering the race for governor of New Jersey. After Corzine's announcement, Acting Governor Richard Codey (D), who had succeeded to the governorship after Jim McGreevey's resignation in 2004, indicated he would not run for a full term, clearing the way for Corzine to be the Democratic nominee. The Republican nominee was Doug Forrester, a prominent businessman and former assistant state treasurer and mayor of West Windsor Township. It was an expensive and often negative race, but in the end Corzine won handily, defeating Forrester 54-43% to become governor-elect of the State of New Jersey.