Governor James J. Florio Biography
For more on Governor Florio, see his autobiography Standing on Principle: Lessons Learned in Public Life, published by Rutgers University Press in 2018.
Governor of New Jersey (1990-1994)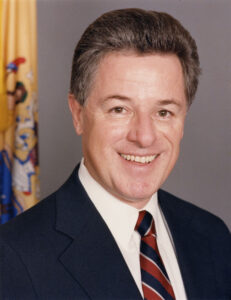 James J. Florio was elected Governor of New Jersey on November 7, 1989, defeating Republican Congressman James Courter by a 62-38% margin. Inaugurated on January 16, 1990, Florio served until January 18, 1994 when he was succeeded by Christine Todd Whitman.
As the Governor of New Jersey from 1990 through 1994, Florio was responsible for a wide variety of initiatives, many of which led to significant changes in New Jersey public policy and governance. For many voters, however, the Florio administration was defined by the package the Governor put forward soon after taking office in 1990 both to meet a projected major budget deficit for the 1991 fiscal year and to address an expected New Jersey Supreme Court decision requiring additional State spending for public schools. The proposal included a $2.8 billion tax increase, with the top income tax rate rising from 3.5% to 7% and the sales tax moving from 6% to 7% and also being applied to many previously-exempt products. Revenues would be used to balance the budget, increase aid to public schools and expand property tax relief programs.
While the legislature enacted much of the proposal in time for the start of the new fiscal year on July 1, 1990, the attacks it had sparked were sustained and kept visible throughout Florio's term in the State House. Fused with opposition to the Governor's successful advocacy of legislation to ban the sale of semi-automatic assault weapons, and fueled by a newly-formed taxpayer organization called "Hands Across New Jersey" and a newly-potent radio station with statewide reach (known by its FM frequency of 101.5), the criticism contributed to the Republican takeover of both houses of the legislature – with veto-proof majorities – in the November 1991 elections.
Two years later in 1993, Governor Florio was defeated in a close general election by Republican Christine Todd Whitman, who won by 26,093 votes out of 2,505,964 votes cast, a margin of 49% to 48%.
Life Before Serving As Governor (1937-1990)
James J. Florio was born in Brooklyn, New York on August 29, 1937. He attended local public schools and then, while serving in the U.S. Navy from 1955-1958, took correspondence courses and received a high school equivalency diploma from the State of New Jersey. Florio received a B.A. from Trenton State College in 1962 and did graduate work at Columbia University in 1962-1963 before earning a J.D. from Rutgers University Law School in Camden, New Jersey in 1967 and being admitted to the New Jersey bar later that year. From 1958-1975, he also served as a lieutenant commander in the U.S. Navy Reserve.
Florio's first jobs as a lawyer were as an assistant city attorney for the City of Camden Legal Department from 1967-1971 and , as solicitor for the New Jersey towns of Runnemede, Wood-Lynne, and Somerdale from 1969-1974. He was elected to the New Jersey State Assembly in 1969 and reelected in 1971 and 1973.
In 1974, Florio was elected to the U.S. House of Representatives, representing New Jersey's First District. Re-elected seven times, he served in Washington from January 3, 1975 until January 16, 1990, when he was inaugurated as Governor.
While in Congress, Florio authored the Comprehensive Environmental Response Compensation and Liability Act, known as the "Superfund" law, to clean up the most polluted sites in the country. He was also a cosponsor of the Exon-Florio Amendment, which created the Treasury Department's Committee on Foreign Investment in the United States to remove Congress from the approval process on foreign takeovers of US industrial concerns. Florio's legislative accomplishments also included writing the Northeast Rail Services Act of 1981.
As Chairman of the House subcommittee with jurisdiction over environmental matters, Florio wrote and steered passage of an amendment to the National Parks and Recreation Act of 1978 creating the Pinelands National Reserve within portions of seven counties in the southern part of the state. Enacted before the New Jersey legislature passed Governor Brendan Byrne's Pinelands proposal, the federal amendment helped protect approximately 1.1 million acres by restricting incompatible federal actions and establishing a planning process to preserve the region's natural resources.
Florio twice sought the office of Governor before his election in 1989. In 1977, he was one of nine candidates who unsuccessfully challenged incumbent Governor Brendan Byrne in the Democratic primary. Four years later, he was the victor in the primary contest but lost the 1981 general election by 1,797 votes – the closest statewide race in New Jersey history – to the Republican nominee, Thomas H. Kean.
Life After Serving As Governor (1994-Present)
Soon after the end of his term as Governor, Florio was appointed a University Professor for Public Policy and Administration at the Edward J. Bloustein School at Rutgers University. He has continued in this position, teaching courses on various aspects of state and federal public policy to graduate and undergraduate students and also writing frequent op ed columns about contemporary public issues.
Florio is also a practicing attorney and founding partner of the law firm Florio Perrucci Steinhardt and Fader with offices in Phillipsburg, Rochelle Park and Woodbury, New Jersey, as well as Bethlehem, Pennsylvania and New York City. He is the chair of the firm's Environmental Group and Government and Regulatory Affairs Group.
In addition, Florio was chosen by Governor James McGreevey to chair the New Jersey Pinelands Commission, a post he held from November, 2002 to June, 2005. He also served as Chairman of the Board of Directors of the Federal Home Loan Bank of New York and is currently on the Board of Directors of the New Jersey Health Care Quality Institute.
Florio's only foray into electoral politics since leaving the State House was to announce for the U.S. Senate in 2000 after Frank Lautenberg announced he would not be seeking re-election. Florio lost the Democratic primary to investment banker and first-time candidate Jon Corzine, who set a record for the most money spent until that time by a candidate for the U.S. Senate. Florio gained 182,212 votes (42.04%) to Corzine's 251,216 (57.96%).
Governor Florio received the 1993 Profile in Courage Award from the John F. Kennedy Library Foundation and also holds numerous honorary degrees. He and his wife Lucinda live in Moorestown, New Jersey.