Governor Christine Todd Whitman Biography
Governor of New Jersey 1994-2001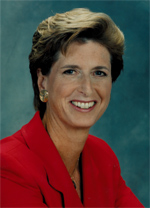 Christine Todd Whitman, the 50th Governor of the State of New Jersey, and its first woman governor, was elected on November 3, 1993 by a 1% margin or 26,093 votes, defeating incumbent Governor James J. Florio. Inaugurated on January 18, 1994, she resigned on January 31, 2001 to become Administrator of the Environmental Protection Agency in President George W. Bush's administration. She was succeeded by Donald DiFrancesco, who was serving as President of the New Jersey Senate.
Whitman was the first challenger to defeat an incumbent governor of New Jersey since the adoption of the 1947 state constitution. She entered the Statehouse as New Jersey's first woman governor, the second Republican woman chief executive in any state, and the thirteenth woman governor in American history. Whitman was one of four women among the 50 governors serving in 1994.
Throughout the almost two terms of her governorship, while pursuing her substantive policy agenda, Whitman served as a role model for women and girls. Soon after her election, she named the first woman to serve as a New Jersey governor's chief of staff. Subsequent appointees included the state's first woman attorney general, later named by Whitman as the first woman chief justice of the state supreme court, as well as several other cabinet officials. These top level appointments were accompanied by many others throughout the government.
As Governor of New Jersey, Whitman's agenda identified three central policy themes: economic growth, good schools and safe streets. During her first term, she reduced the size and cost of government implementing a 30% income tax cut over three years accompanied by several reductions in business taxes. She reduced the number of state departments from 19-16, eliminating the Department of Higher Education and the Office of the Public Advocate, and consolidating the Departments of Banking and Insurance. She also reorganized the Departments of Health and Environment and changed the Department of Commerce and Economic Development to a Commission.
The Legislature narrowly approved Whitman's controversial 1997 plan to issue $2.8 billion in bonds to refinance the pension funds' $4.2 billion debt to eliminate unfunded liabilities and save taxpayers billions of dollars in interest payments. The refinancing enabled Whitman to use investment gains to reduce significantly the state's scheduled pension payments and also yielded $590 million in immediate savings to balance the state budget without deep spending cuts.
Subsequent administrations have argued that Whitman's financial policies and actions caused serious problems with the pension funds and state budgets that had to be addressed at a later date-and at a much higher cost. Whitman supporters have argued that pension underfunding and budget shortfalls were caused by decisions made, and actions taken, after she left office.
Environmental protection and preservation of open space were high priorities including a constitutional amendment, approved by the voters in 1998, which preserved open space, farmland and historic sites. The Garden State Preservation Trust was created to approve and finance the acquisition of 300,000 acres out of the 1 million acres deemed worthy of preservation. Her other environmental initiatives included the clean-up and development of contaminated areas, stricter auto emission policies and environmentally sensitive transportation efforts.
On education, the Whitman plan to meet the constitutional requirements of "a thorough and efficient education" centered on core curriculum standards and whole school reform. Accountability was provided by a Statewide Assessment Program. She also promoted development of pre-K programs in Abbott districts. The administration also backed two initiatives to broaden the educational options for K-12 families. In 1996, Governor Whitman signed the Charter School Law, and a five-year pilot School Choice Program offered families opportunities to send their children to schools with open seats outside their local districts. With the passage of the 2000 Educational Facilities Construction and Financing Act, the state supported school construction plans throughout the state, with special emphasis on the Abbott districts.
Whitman was a moderate with regard to social issues. She vetoed a ban on "partial birth" abortions in 1997, but signed legislation in 1999 requiring parental notification for teens seeking abortions. She also supported reform of the juvenile justice system and created a welfare reform plan which included a work requirement.
Life Before Serving as Governor: 1946-1994
Christine Todd Whitman was born in New York in 1946 into a distinguished political family. She spent most of her childhood at the family farm, Pontefract, in Oldwick, New Jersey. Graduating from Wheaton College in 1968, she worked on Nelson Rockefeller's presidential campaign. In subsequent years she worked for Donald Rumsfeld at the U.S. Office of Economic Opportunity and for the Republican National Committee. In 1974, she married John Whitman, the scion of another prominent political family. In 1982 she was elected freeholder in Somerset County where she served for two terms, the last as freeholder director. She resigned in 1988 to accept an appointment to Governor Kean's cabinet as Chair of the Board of Public Utilities. She left in 1990 to run for the U.S. Senate challenging popular Democratic incumbent Bill Bradley. Despite Bradley's $12million war chest, Whitman came within 3 points of defeating him, thus positioning her to run for governor in 1993.
Life After Serving as Governor- 2001-present
Whitman is the President of the Whitman Strategy Group, a consulting firm that specializes in energy and environmental issues.
She is the author of a New York Times best seller, It's My Party Too, which was published in January 2005 and released in paperback in March 2006.
Governor Whitman serves on a number of non-profit organizations including the Board of Trustees' Executive Committee of the Eisenhower Fellowships and the Board of Directors of the Council on Foreign Relations. She co-chairs Clean and Safe Energy and is a member of the board of directors of the American Security Project and Americans Elect. She is Co-Chair of the Aspen Health Stewardship Project, a member of the advisory board of Reform New Jersey Now, and a member of the Senior Advisory Board of the Institute of Politics at Harvard University. Gov. Whitman serves as a visiting lecturer at colleges around the country through the Woodrow Wilson Visiting Fellows program, and she serves on the O'Connor Judicial Selection Advisory Committee at the Institute for the Advancement of the American Legal System. She was also the Co-Chair for the Council on Foreign Relations' Task Force, More Than Humanitarianism: A Strategic U.S. Approach Toward Africa.
Governor Whitman also serves on the Board of Directors of S.C. Johnson and Son, Inc., Texas Instruments Inc., and United Technologies Corporation. She holds an Advanced Professional Director Certification from the American College of Corporate Directors, and she serves as an advisor to the Aspen Rodel Fellowship program. She is a member of the Advisory Board of the Corporate Eco Forum, a board member for the 2014 NY/NJ Super Bowl Host Committee, and a member of the board of trustees of Greener New Jersey Productions.