Atlantic City Reflections: Stanley C. Van Ness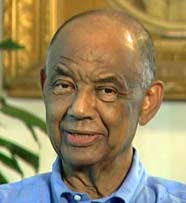 Excerpts from the transcript of an interview with Stanley C. Van Ness (Counsel and Assistant Counsel to Governor Hughes 1965-70; Byrne Administration Public Advocate and Public Defender 1974-1982) conducted by Don Linky for the Eagleton Center on the American Governor on July 24, 2006. The full interview is available in the Video Library.
Donald Linky: Talk about some of the cases that you've handled.
Stanley Van Ness: Well, I think the one that sticks out in my mind the most is the Tunnel Case in Atlantic City where we were asked by a number of middle class black families to represent them in opposition to a tunnel that they had planned to build from across Atlantic City which the tunnel would go right through their street and demolish their neighborhood, and go out to the marina or right our near the marina; that tunnel was eventually built, I think only because we ran out resources to fight it. We were in the Federal District Court on Tunnel after we had lost in State Court on the application of the statute to redevelopment and some of that foreshadowed the eminent domain disputes that are going on now. I don't know that we really framed in terms of eminent domain being gone astray, but that's really what it was. They were taking their property to give it to somebody else and we lost it in State Court, but we were in Federal Court on civil rights issues when we ran out of steam, and they went on – they sweetened the pot for the eminent domain and the people got some relief but they still lost their homes.
Q: On the broader topic of Atlantic City, looking back now, do you think it's been a success, failure or somewhere in the middle?
Stanley Van Ness: Somewhere in the middle; you have to be impressed when you go down there and look at some of those palaces and people coming and going. But if you go two blocks off the Boardwalk you still see the same things you saw before gambling ever came into Atlantic City, and in some respects I think it's worse. It's – I don't know how it could have been done otherwise.
Q: Did you vote for the casino referendum?
Stanley Van Ness: I think the first time I did not and the second time I did. I think that what convinced me the second time, I was in Atlantic City with my public information guy one night and it was in the winter and we were walking – we did a radio interview down there and we finished it, and we were walking to get something to eat up Atlantic Avenue. We walked passed one storefront and there were two ladies of the evening backed to get out of the wind, and we spoke to them for a few minutes and didn't yield to that kind of a temptation and went onto look, and we went into this restaurant and we didn't see anybody else on the street. We went in the restaurant and there was a guy sitting in there with a beard, he looked like he was a Navy captain or something, and he got up and stole somebody's sweater off the rack and walked outside. I said, this is awful down here, and I think I said, well we'll vote for it, it can't get any worse. I don't know maybe that was a wrong ballot, I don't know, but that's what convinced me to do it.