Atlantic City Reflections: James P. Dugan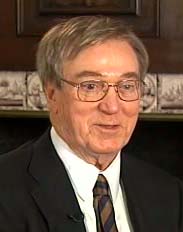 Excerpt of the transcript of an interview with James P. Dugan (State Senator 1970-78; Chairman of Democratic State Committee 1974-77) conducted by Michael Aron for the Eagleton Center on the American Governor on February 27, 2008. The full interview is available in the Video Library.
Michael Aron: Was casino gambling an issue in the first [Byrne] term?
James P. Dugan: It was, it was.
Q: The Governor believed that a constitutional amendment to allow gambling in Atlantic City made sense?
James P. Dugan: He did.
Q: Did you?
James P. Dugan: I did. I did not think a constitutional amendment that allowed gambling throughout the state made sense, and I took a position against that. And I think the Governor took no position, but I would not raise any money for that proposition. I thought that was– I just didn't think that had any merit. Then, when it was– I remember Wayne Dumont and some of the rural senators from the rural sections of the state, the Northwest, that wanted casinos up in that area, they were disappointed that they couldn't get support for it. And it went down pretty badly. A couple of years later, there was another referendum amending the Constitution that provided that the casinos, the venue for the casinos would be restricted to Atlantic City. I thought that was a good idea. Lots of other people did, too. So, that passed very comfortably, and that was– and then, there was the enabling legislation that followed that, that my committee, the Judiciary Committee, had jurisdiction over. So it was very interesting, and very useful, very profitable for the state, and a boon to Atlantic City and South Jersey. It hasn't fulfilled its promise completely, but on the whole it's been something that we accomplished and have some pride of authorship in.
Q: Do you think it would have happened were it not for Brendan Byrne? His successor, Tom Kean, opposed gambling.
James P. Dugan: Well again, the Byrne Administration, and the legislature that he had, were enthusiastic; they had an appetite for change and doing things. And I think we worked well together. We had overwhelming Democratic positions in both the Senate and the Assembly, and in the Senate we were on a roll. So we did a lot of things: Pinelands, Meadowlands, lots of things, lots of good things we did.
Q: In hindsight, was it a mistake not to set up a Meadowlands-type commission for Atlantic City?
James P. Dugan: I don't know. I think the Casino Control Board has lots of jurisdiction that it may not always exercise, but they have pretty good control of what goes on down there.