Atlantic City Reflections: Governor Richard J. Codey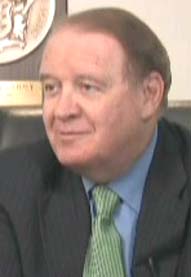 Excerpts of the transcript of an interview with Richard J. Codey (State Assemblyman from 1974 to 1982; State Senator from 1982 to the present; State Senate President from 2002-2008; Governor from 2004-2006) conducted by Michael Aron for the Center on the American Governor on March 23, 2010. Full interview is available in the Video Library.
Michael Aron: Did you enjoy serving [while in the Assembly] under Brendan Byrne?
Richard J. Codey: Oh, absolutely.
Q: Tell us about those years. What comes to mind?
Richard J. Codey: Working on the casino bill, you know. We spent a lot– I spent a lot of time in his office going over the nitty gritty of the casino bill.
Q: Were you a champion of casino gambling?
Richard J. Codey: I've never gambled in a casino in my life, to this day.
Q: Were you a sponsor of the bill?
Richard J. Codey: No. But what I became was the architect of how we would implement casino gaming in the state of New Jersey. So– and the reason I was selected was because I was chairman of a committee and I was single, and I had the time to spend, you know. So I was sent all over the world looking at casinos, whether it was England or the islands, Las Vegas or whatever. And I can remember one time…
Q: That's a tough gig.
Richard J. Codey: Yeah, it was really tough. One time I'm sent to Las Vegas, and the governor, Governor Byrne, calls me. He says, "Listen, I know blank at this hotel casino, and I'll make sure you meet with him." So when I got back I said to him, "Governor, you know, when he lived in New Jersey, he was a bookmaker." And he said, "Dick, that's how I knew him." I said, "Okay."
Q: Was it tough getting a casino bill passed?
Richard J. Codey: It took a while to get all that done. I mean this was brand new to us. The only other jurisdiction we could look at was Las Vegas and we didn't want to be like Las Vegas, you know. Then, here, the other thing is, the press kept saying the mob's gonna be involved, the mob's gonna be involved, which I thought was overblown but we had to be conscious of that when we wrote the laws. Later on, you know, we let go a lot of that stuff because now you're dealing with publicly traded companies. Back then, you know, a lot of them were not.
Q: You needed a referendum to…
Richard J. Codey: There was a referendum. Well there was a– one referendum, I think was in '74, '75, failed. So they brought it back in a different fashion saying if you say yes to casino gaming in Atlantic City, this money will go to senior citizens and the disabled for prescriptions and other things. And as a result of that change it passed.
Q: Looking back now, is there anything that should've been in the legislation that wasn't, or vice versa?
Richard J. Codey: No, I think the one bad thing is when you look at Atlantic City back then and look at the amount of population within driving distance to Atlantic City, which is roughly about 150 million people at least, you know, you realize all they had to do was open the doors and you're gonna be incredibly successful. You didn't need to, you know, we required them to have certain amenities but they never really, you know, created Atlantic City as a resort designation. And that was a mistake, and it's caught up with them.
Q: What would've enhanced Atlantic City as…
Richard J. Codey: Well, you have to understand, the weather's different than Las Vegas. That's a given. But they didn't create the kind of atmosphere. I mean ten years after casino gaming was approved the boardwalk still looked like it looked like before you had casino gaming, you know. You'd walk by a store and they'd have rotten stuff to sell, not classy stuff, you know. They should've just broke down the whole boardwalk and started from scratch.
Q: How much progress have they made in that regard now?
Richard J. Codey: I don't think they've made a lot, to be honest with you. They made too much money by just– by opening their doors. And now that competition's here, you know, some people say it's too late. We'll see.
Q: Would it have passed, the casino act, without Brendan Byrne spearheading it?
Richard J. Codey: I think it would have because there was a lot of major players that contributed to the referendum. I can remember, as being chairman of the city of Orange, Mike, and you would go down to the county chairman's office to pick up your literature for election day, and when I picked up all the bags for the committee people in the city of Orange, it was loaded from top to bottom with pro casino literature. So I knew right away that someone had gotten to the chairman to make sure that the vote in Essex County was gonna be pro casino, and it was.
Q: Should there have been some kind of state commission, like the Meadowlands commission, created to administer Atlantic City and oversee Atlantic City?
Richard J. Codey: You know, that issue came up. Looking back, I would say yes. Atlantic City government obviously was a failure. I think every couple of years the mayor would go off to jail. And they just weren't equipped to be able to handle it. It was an old form of government and it just did not work, simple as that. It was– you were asking something that was impossible.
Q: Why did that not come up at the time?
Richard J. Codey: I'm not sure as to why that movement stalled, to be honest with you. I just can't recall.
Q: Was Steve Perskie in the legislature at that time? Did he spearhead this movement in the legislature?
Richard J. Codey: Absolutely, positively, unequivocally, yes.
Q: He was in the senate or the assembly?
Richard J. Codey: Assembly, and he– I remember him pushing the square footage. He wanted each, you know, we had saddled that each room had to be a certain size, and he wanted it to be roughly, maybe, 325 square feet, which, just by coincidence, fit the local Howard Johnson's which his relatives owned.
Q: If you had to name three people who made that casino act a reality, who were the three?
Richard J. Codey: Brendan Byrne, Steve Perskie, maybe myself. I don't know.