Atlantic City Reflections: Edward R. McGlynn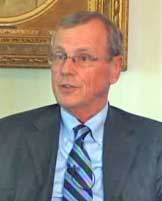 Excerpts of the transcript of an interview with Edward R. McGlynn (Chief of Staff and Deputy Chief of Staff to Governor Kean 1986-90; Executive and Special Assistant to Attorney General Irwin I. Kimmelman 1982-86; Commissioner, NJ Racing Commission) conducted by Michael Aron for the Eagleton Center on the American Governor on June 2, 2010. The full interview is available in the Video Library.
Michael Aron: Do you remember anything else he was involved in during that first term?
Edward McGlynn: Mike, that's– It's almost 30 years ago now as a matter of fact and I was there for such a short period of time that I can't tell you there were real hot-button issues. We had criminal justice. Don Belsole was the head of criminal justice at that time.
Q: He was a memorable figure.
Edward McGlynn: Yeah. Don—
Q: He was a strong personality.
Edward McGlynn: Right. Don had been the prosecutor in Morris County I think and he was a very strong personality, and of course we had gaming enforcement and that was kind of in its relative infancy. Resorts opened–what–in '76 I think and so all the new casinos were coming on line. I do remember having meetings- his having meetings with– I thought county chair people were rough- county chairmen were rough and that they always wanted something every day. I've never dealt with casino industry people like this. They want something different every single day.
Q: Who had to deal with that? You?
Edward McGlynn: The General [Attoney General Irwin Kimmelman] would deal with it but I would be part of those meetings
Q: What would they want? Relaxation of certain rules?
Edward McGlynn: Anything, just you're not doing enough for me. You got to do– If the tax is eight percent, we want it to be five percent or if the- there's a luxury tax we don't want the luxury tax or if there's a parking fee we don't want the parking fee. We don't want anything. We just want to make money.
Q: How were they to deal with?
Edward McGlynn: Horrible. Horrible, and I- that's wrong to classify all of them as being horrible but there were certain of the individuals which were a little—
Q: Were they rougher than the other people you had to deal with?
Edward McGlynn: Demanding. Just demanding; that's all.
Q: How do you think that industry has fared over the 30 years since then?
Edward McGlynn: They were doing fine for a while and now obviously they're being hurt tremendously. They're being hurt by what- by surrounding- what's surrounding them. I'm on the racing commission. I took my dad's seat on the racing commission when Governor Whitman appointed me in 1995 and been on since and the casinos have killed the racing industry essentially and going to be difficult to save, and it appears that because of what's happened in Delaware and New York and Pennsylvania that there is a significant amount of reduction in revenue for Atlantic City, which is not good for the region.