Atlantic City Reflections: Daniel J. O'Hern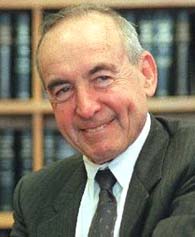 Excerpts of the transcript of an interview with Daniel J. O'Hern (Commissioner of NJ Department of Environmental Protection 1976-79; Counsel to Governor Byrne 1979-81; Associate Justice, NJ Supreme Court 1981-2000) conducted by Roger Cohen for the Eagleton Center on the American Governor on January 4, 2006. The full interview is available in the Video Library.
Roger Cohen: Some people might not consider this environmental but also while you were there [as Commissioner of Department of Environmental Protection] Atlantic City, what we know as Atlantic City today began to take shape. What was your role in helping to shape what we now see down at the shore?
Daniel J. O'Hern: Well, this is another grand story. We took a tour of the boardwalk with the governor and of course the big issue was historic preservation. And I will simply say that the governor was not a great fan of historic preservation. He wanted to see a new Atlantic City, didn't want to see the Traymore with a fresh coat of paint….. So, the DEP [Department of Environmental Protection] was conflicted and there were several things which the DEP was deeply involved, most notably air pollution, transportation in and out of the city and so forth. And, they did fight very hard to get public transportation. If you'll notice on your way into Atlantic City you'll see the parking and so forth. Casinos were required as I recall to provide the shuttle buses.
Q: What about Atlantic City again in your mind looking back; how you thought it might evolve and what it has evolved into?
Daniel J. O'Hern: I think it's gradually getting there. There's no doubt that it's had a tremendous effect on South Jersey, the South Jersey economic situation and it's finally becoming a family– one of the big mistakes I think was to allow tour buses on the parkway in retrospect because that only encouraged the day trippers. Now, the casinos will tell you we needed the money but it created a culture of in and out that I don't think was good for the long term.
Q: And also environmentally I would think it would have a terrible impact on the southern portion of the parkway and driving into Atlantic City.
Daniel J. O'Hern: Yeah.
Q: Did you vote for the casino referendum?
Daniel J. O'Hern: You mean as a private citizen? I can't say. I think the answer is yes and I think the reason that I voted for it is because it's the way I feel about Asbury Park. Everybody in New Jersey had kind of a warm feeling about Atlantic City. As a lawyer I had gone there from the '60s on and you could see it slipping and we thought maybe this will do it.
Q: And like you said it's taken a long time but you've seen progress.
Daniel J. O'Hern: Yeah.
Q: Environmentally are things being handled based on what you see here the way you would like to have seen them handled in terms of development restricted to certain areas and protection of wetlands?
Daniel J. O'Hern: Atlantic City is a very poor political culture. I mean it was its own worst enemy. I think so much more could have been done in Atlantic City. Now, this is long after my time and the Casino Redevelopment Act that takes a little bit of money and puts it into housing and redevelopment. I think that can eventually really pay off. But even that, as you recall, fell victim to traditional politics because they forced the money to be spread throughout the state and I think I was one of four members of the Supreme Court who said that's constitutional. It was a really close question.
Q: That it's constitutional to–
Daniel J. O'Hern: Yeah [Justice Alan] Handler wrote the dissent because the casino referendum says something to this effect. The funds must be used to benefit the casino area. And, as I recall, the court said "Whoa, you can't have a healthy area down there if the rest of the state isn't healthy" or something like that.