2021 Gubernatorial Elections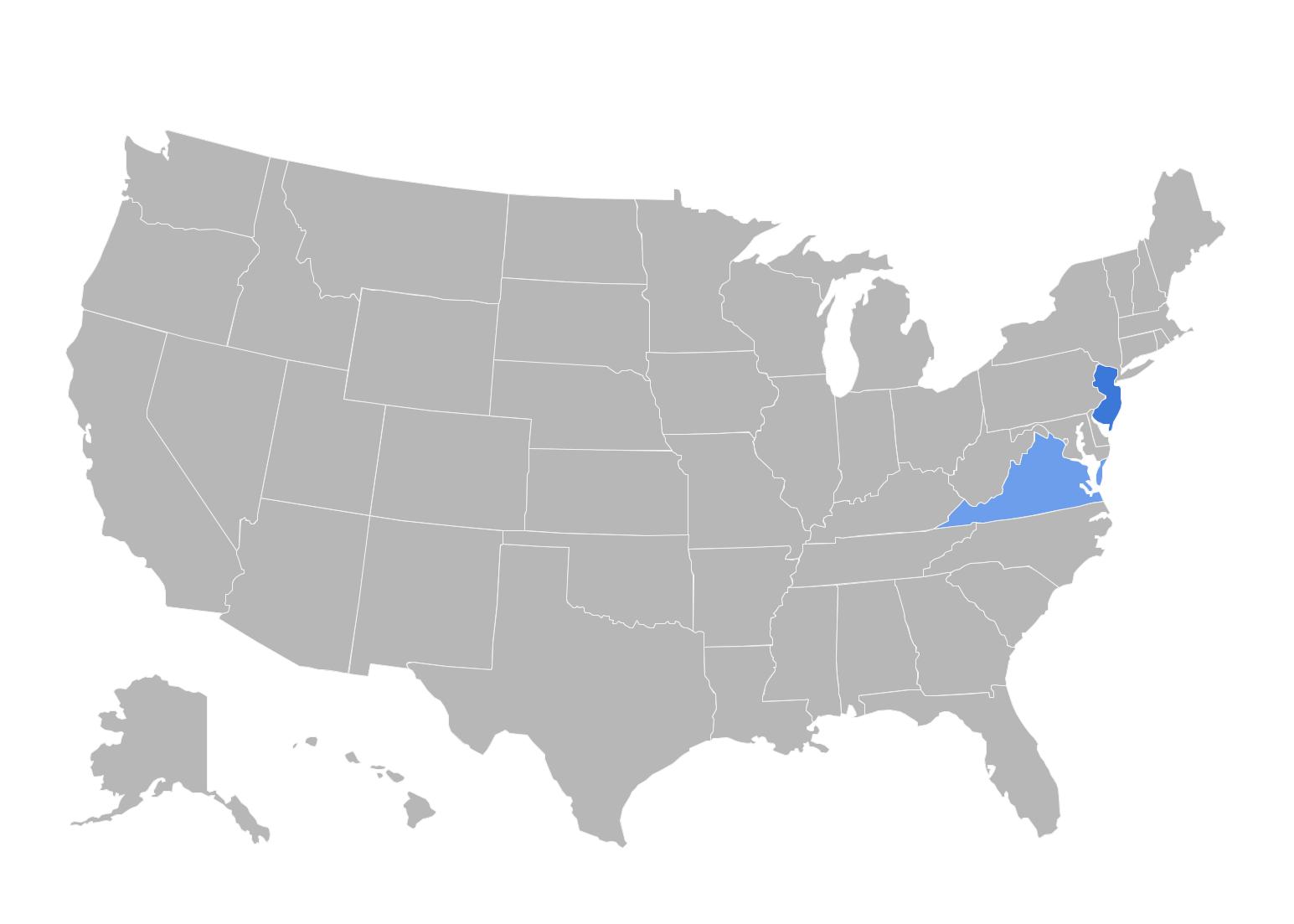 Only two states–New Jersey and Virginia–will hold gubernatorial elections in 2021, but as the first statewide races following the election of a new president, both will be closely-watched. While each race has its own key issues, including those surrounding the pandemic and the roll-out of the vaccination program, they will also likely be seen (rightly or wrongly) as early bellwethers on the popularity of the new presidential administration.
Both of the governorships up this year are currently held by Democrats. The New Jersey race will feature incumbent Governor Phil Murphy (D) running for reelection. In Virginia, the governor is limited to one term, leaving Governor Ralph Northam (D) ineligible to run.
New Jersey
Candidates
Democratic Party: In a fact that may be (at least partly) coincidental, every New Jersey gubernatorial race since 1985 has been won by the candidate representing the opposite party of the sitting president. Incumbent Governor Phil Murphy will attempt to break that streak this November, as he has officially announced his run for re-election. He did not face significant opposition in the primary.
Republican Party: The Republican primary was more closely contested. Former Member of the New Jersey Assembly Jack Ciattarelli was the favorite, particularly after former Chairman of the New Jersey Republican Party Doug Steinhardt dropped out of the race on January 11, 2021. Ciattarelli faced a challenge, though, from businessman Hirsh Singh, businessman Phil Rizzo, former Mayor of Franklin Township (Somerset) Brian Levine. Ciattarelli and Singh both also ran for governor in 2017, losing in the primary to then Lieutenant Governor Kim Guadagno. Ciattarelli ultimately won the nomination with 49.5% of the vote, with Rizzo finishing second with 25.7% and Sing third with 21.6%.
Key Dates
January 12     Annual State of the State Address
April 5            Filing Deadline
June 8            Primary
November 2   Election Day
Virginia
T he governor of Virginia is ineligible to run for a second consecutive term, but is not limited to one term in his or her lifetime. (Note that this is also true in New Jersey, where the constitutional limit is two consecutive terms.) Therefore, while current Governor Ralph Northam (D) is ineligible to run for a second term, former Governor Terry McAuliffe (D, 2014-2018) is eligible to run to regain the office–and on December 9, 2020, announced he would do just that. He faced a difficult primary, featuring State Senator Jennifer McClellan, former member of the House of Delegates Jennifer Carroll Foy, and current Lieutenant Governor Justin Fairfax. Either McClellan or Foy would have been the first woman elected governor in Virgnia's history and the first Black woman elected governor in the nation's history. McAulffie won the primary, however, with 62% of the vote. Foy finished second with 20%.
Republicans in Virginia held a state convention (with ballots cast remotely) on May 8, 2021, to pick their gubernatorial nominee. Glenn Youngkin, the former CEO of the private equity firm The Carlyle Group won the nomination, defeating former Speaker of the Virginia House of Delegates Kirk Cox and former State Senator Amanda Chase, who is closely aligned with former President Donald Trump. Chase opposed the convention format and has considered a run as an independent. Youngkin does not have prior political experience.
Key Dates
March 25          Filing Deadline
May 1               Republican Convention
June 8              Democratic Primary*
November 2     General Election
Note: The Republican Party will select its nominee at the state convention, while the Democratic Party will select its nominee via the primary.